Professor Hilary Braysmith, University of Southern Indiana, holds DAAD guest professorship at BTU in summer semester 2020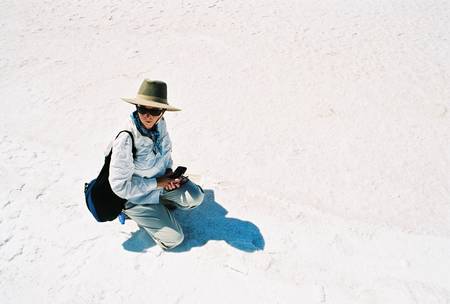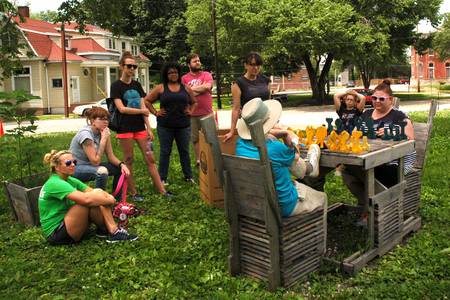 After visiting BTU and Cottbus for several projects and guest lectures since 2018, Professor Braysmith from University of Southern Indiana´s College of Liberal Arts is spending the summer semester at BTU to teach a study project on "Heritage-based Social Practise" for Master students in World Heritage Studies and Heritage Conservation and Site Management as well as a seminar for BTU PhD students on "Ethical Research, Practice, and Social Practice".
Professor Braysmith is an Arts Historian by education a well as a curator, developer and organiser for art- and heritage-based projects within communities and the public space. In her teaching, projects and research, she focuses on cultural heritage, identity constructions and (post-)colonialism.
The central aim of her teaching is to understand and use art and cultural heritage as a vehicle for solving social and environmental problems. Dr. Braysmith sees herself and her students as "scholar citizens" using their academic competence and professional knowledge to solve local, national and global challenges ("social practice"). By means of art and cultural heritage, she critically examines prevailing theories and practices in urban planning as well as economic and social development within the urban space and confronts these with new theories and approaches.
As a guest professor, Dr. Braysmith is an excellent fit to BTU´s interdisciplinary and practice-oriented Master's programmes and international PhD programmes, which are particularly distinguished by the diversity and heterogeneity of the students, their disciplines, and their study and research projects. In the Master World Heritage Studies alone, students from five continents, from 48 countries and each with different backgrounds - from architecture and cultural studies, anthropology and social sciences to theatre studies and the fine arts - study at BTU.
Professor Braysmith's stay is a cooperation of the Chairs of Intercultural Studies (Prof. Anna Amelina, Faculty 5), Heritage Management (Dr. Britta Rudolff, Faculty 6) with the Research Department (Dr. Birte Seffert), the Bureau for International Studies (Ms. Helena Schmiemann), the International Relations Office, the Graduate Research School and the Multimedia Centre.
The guest professorship is sponsored by the German Academic Exchange Service (DAAD) and by BTUs´Faculty of Architecture, Civil Engineering and Urban Planning.
Contact: Dr. Hilary Braysmith (brayshil(at)b-tu.de) and Dr. Birte Seffert (seffert(at)b-tu.de)
Two ERM students awarded the BTU scholarship for PhD students who are active in establishing international cooperation within their Chair/Department (DAAD STIBET funding)
Mr. Chefor Fotang, Department of Ecology, is writing his dissertation on the ecology of Chimpanzees in the North-West region of Cameroon.
He has been awarded the scholarship for his exceptional engagement in cooperating with partners at the University of Dschang (Cameroon), local authorities and NGOs within his PhD project and towards a 3-year joint research project on sustainable forest management starting in 2020. Mr. Fotang has been active in raising funds for his field research and in presenting his results at international conferences as well as in several publications. In their recommendation, his supervisors, Prof. Birkhofer and apl. Prof. Bröring, underline Mr. Fotang´s commitment and motivation to his field of research.
---
Mr. Haggart Ugwo, Department of Ecology, is writing his dissertation on heavy metal accumulations along a soil-mushroom-consumer food chain in contaminated areas.
He has been awarded the scholarship for his active engagement in linking his PhD research on environmental toxicology/epidemiology at Lieberoser Heide (a former military training camp in the state of Brandenburg) with international partners for the purpose of establishing international cooperation in researching the effects of heavy metals in the environment for his Department. His supervisor, apl. Prof. Manfred Wanner, stresses the high quality of his research project and his activities for the Department.
---
PhD ERM graduate Chika Ubaldus Ogbonna receives BTU award for his dissertation on »Adaptation to Climate Change in Developing Countries: Institutional Challenges and Opportunities for Nigeria' s Niger Delta Region«. The dissertation was supervised by the Chair of Public Law with special reference to Environmental and Planning Law . Chika received the honour "magna cum laude".
We congratulate Chika on this success!
---
ERM PhD student and DAAD scholarship holder Isaac Mbir Bryant works on a biogas facility in Ghana with the BTU Chair Biotechnology of Water Treatment. BTU News reported on his research project (in German only).
---
Twenty years ago, the study programme Environmental and Resource Management (ERM) at the former BTU Cottbus was established. The Bachelor's degree began, followed a year later by the Master's and PhD programs in 2002.
---
The prize was awarded for her poster on "Economic Valuation and Analysis of Climate Change Adaptation Measures in Agriculture"
---
Climate-KIC Journey is Europe's largest summer school for climate innovation and entrepreneurship offering a unique combination of climate knowledge and hands-on business experience.