Design variants of the T-Cell in context, Design and Visualization: Chair of Architecture and Visualization, Prof. Dominik Lengyel, Project Management: Catherine Toulouse
T-Cell - The energy converter of the future
The Chair of Architecture and Visualization is developing the design and the mediation concept for the so-called T-Cell as well as the planning of the outer shell and the floor space as part of a cooperation project launched in January 2020.Ten chairs of the Brandenburg University of Technology Cottbus-Senftenberg are working together with the Fraunhofer Institute for Ceramic Technologies and Systems (IKTS) in Dresden on a sustainable solution for the energy transition. The interdisciplinary project, funded by the German Federal Ministry for Economic Affairs and Energy (BMWi), has a total volume of 6 million euros. Further information under Research

Ausstellung - shared spaces in change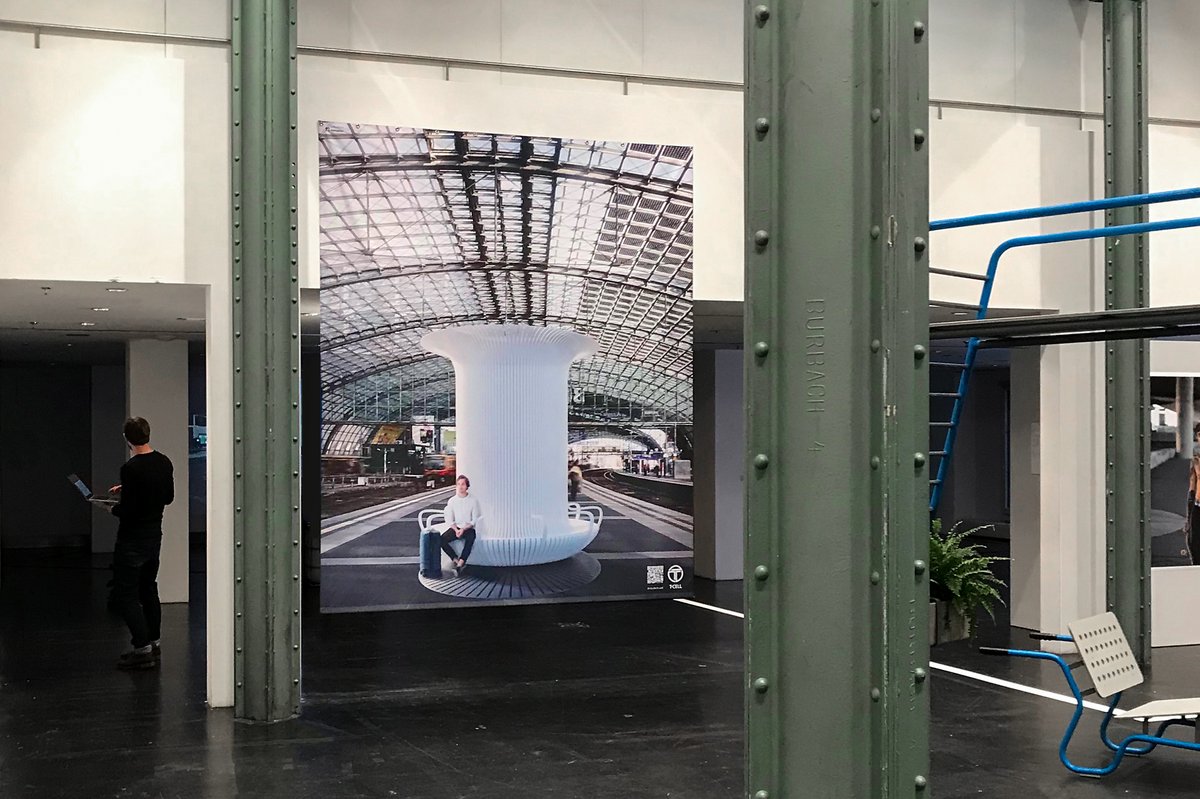 As part of the priority program "The Digital Image", the DFG has approved the project "Architecture Transformed - Architectural Processes in Digital Image Space", which will be carried out as a joint project with Prof. Dr. Hubert Locher, Institute of Art History at Philipps University Marburg. Further information under Research

Potsdam Science Day 2021 T-Cell: Energiewandler der Zukunft - Eine virtuelle Ausstellung
The T-Cell is the relevant energy converter of the future, which integrates itself into the public space through diverse design variants. The design concept was developed at the Chair of Architecture and Visualization at BTU Cottbus-Senftenberg under the direction of Univ.-Prof. Dipl.-Ing. Dominik Lengyel. The virtual exhibition presents the design diversity of the T-Cell and offers insights into the technical inner workings. https://ptdw.de/programm/t-cell-energiewandler-der-zukunft-eine-virtuelle-ausstellung/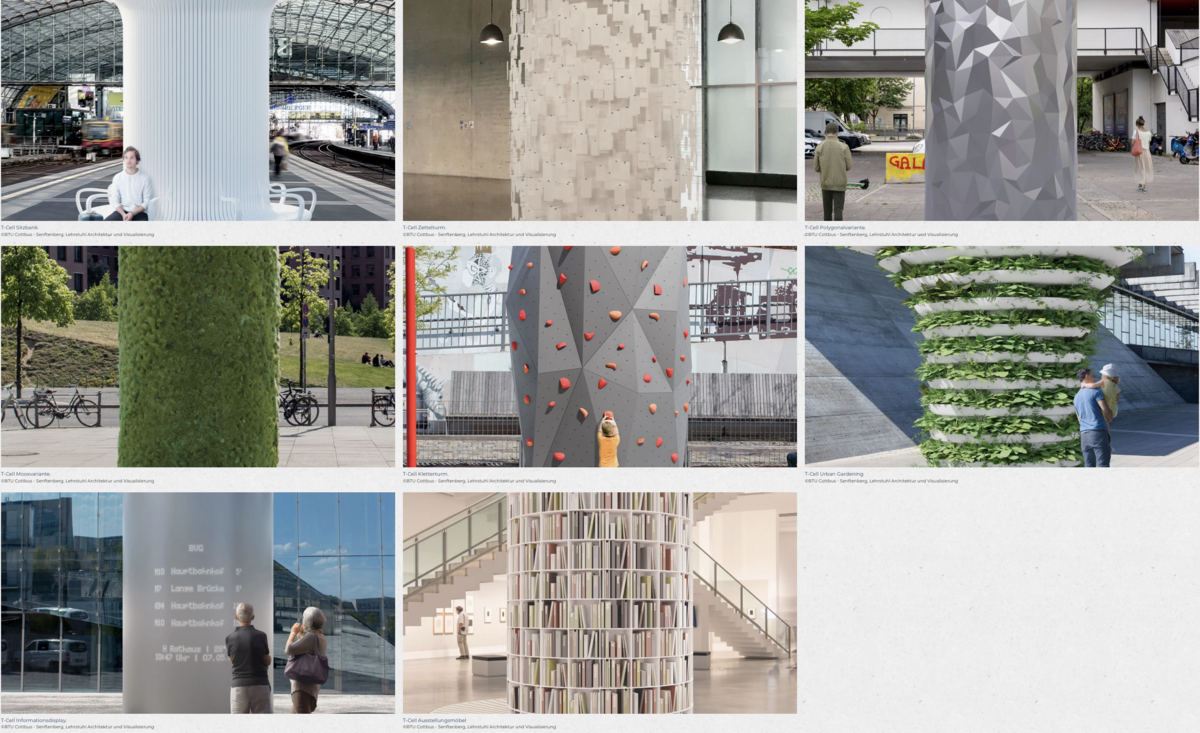 The T-cell at Husum Wind From 14.09. to 17.09.2021 we presented the T-cell at Husum Wind
At Husum Wind 2021, the T-cell was represented on the BTU Cottbus-Senftenberg stand. Expert colleagues were available to answer questions and provide information. 3D prints, visualisations and structural components made an impression both technically and creatively.

Official press release

Pergamon Museum. The panorama
The exhibition of the Collection of Classical Antiquities of the National Museums in Berlin shows, among other things, the scientific visualizations of the Chair of Representation Studies, which were created in cooperation with the German Archaeological Institute (DAI) Istanbul Department. The caption also uses a QR code to refer to the film, which has been set to music with a voiceover for the Leipzig exhibition. 16.11.2018 until probably 2024

Pergamon revived! The ancient residential city in 3D
An exhibition of the Museum of Antiquities of the University of Leipzig in cooperation with the German Archaeological Institute (DAI) Istanbul Department and the Chair of Representation Studies at the BTU Cottbus-Senftenberg April 21, 2018-July 15, 2018 "The focus of the exhibition is a new virtual 3D reconstruction of ancient Pergamon, developed by the Chair of Representation Studies at the BTU Cottbus in cooperation with the German Archaeological Institute (DAI). The show provides visitors with a modern, vivid image of ancient urban spaces. At the same time, it is intended to encourage visitors to reflect on their own urban environment. As the seat of the Hellenistic dynasty of the Attalids and as a Roman metropolis, Pergamon on the west coast of Turkey was one of the most prominent urban centers of the ancient world. For more than 130 years, archaeologists under the direction of the DAI have been researching the overall urban organism, the necropolises and the surrounding area of the city. The exhibition focuses on the numerous reconstructions created under scientific aspects since the beginning of the excavations, which bring the ruins of the buildings of Pergamon to life. They help archaeologists, building researchers, but also the lay public to understand ancient architecture as a whole, including its relationship with the living and natural space created by man. At the beginning, the visitor can expect the film installation of the new 3D reconstruction of Pergamon, which illustrates the urban city organism as a whole in a walk to the Acropolis with the ruler's palaces. The show then turns to central urban spaces in which the inhabitants lived and worked and which were of great importance for their education, religion and cults. The following chapter presents the archaeological-architectural-historical work and scientific documentation of the preserved building remains, on which the scientifically correct and vivid reconstruction of individual buildings, architectural ensembles and entire cities is based. Finally, the exhibition turns to various media of visualization of ancient architecture. In addition to older graphic reconstructions of individual building complexes, a scaled-down printout of the 360° Pergamon panorama by the artist and architect Yadegar Asisi can be seen. Particular attention is paid to the digital visualizations perfected in recent years. Archaeologists use them not only to illustrate research results, but increasingly as an important tool in the production of new knowledge and for expanding scientific horizons. Sharing Heritage The exhibition is part of the DAI presentation Entangled History - Networked History for the European Heritage Year 2018. Further information and events can be found here:www.dainst.org/kulturerbejahr2018"Source: http://antik.gko.uni-leipzig.de/index.php?id=207

While color is a central component of our living environment, it is of rather secondary importance in the design of our built environment. The 11th Dresden Color Forum will address the topic of color in the design process of cities, houses and interiors from a historical, scientific and practical perspective. Scientists, designers and teachers will exchange views on the role of color in architecture in practice and teaching through lectures and discussions. 11th Dresden Color Forum

"The Legacy of the Ancient Kings - Ctesiphon and the Persian Sources of Islamic Art."
Exhibition with the participation of the Chair of Representation Studies of the BTU in the Museum of Islamic Art in the Pergamon Museum in Berlin 15.11.2016-02.04.2017 Archaeological research in the museum is conveyed by means of the architectural traditions in Sasanian and Islamic times using the example of Ktesiphon. In the two short films "Ktesiphon - Metropolis on the Tigris" and "Taq-e Kesra - Ideal of an Iwan" (see below) and a five-meter perspective illusion of an ideal Iwan mounted on the wall, fragmentarily framed with original stucco friezes, fragmentary finds, especially stucco decorations, are exemplarily presented in their architectural context in order to make clear to the viewer their original function and embedding and to let him experience the original spatial effect. At the same time, the aim was to convey the image of a late antique metropolis by means of a few architectural examples and changing scales, from individual ornaments to private dwellings and - to illustrate their ambiguity - changing roofscapes to the palace façade with the iconic arch of Chosrau. Special emphasis is placed on the communication and representation of ambiguity in archaeological knowledge. The exhibition was conceived within the framework of the research group (C-3) "Fragments, Ruins and Space: The Perception and Representation of Ancient Spaces in Modern Contexts" of the DFG Excellence Cluster TOPOI. Cooperation partners included, on the part of the National Museums in Berlin (SMB), the Museum of Islamic Art and the Institute for Museum Research, as well as the German Archaeological Institute (DAI) and the HTW Berlin. Prof. Dominik Lengyel and Catherine Toulouse

Film "Ctesiphon - Metropolis on the Tigris"

Film "Taq-e Kisra - Ideal Image of an Ivan"