Lecture Series
The lecture series of the DFG (German Research Foundation)Research Training Group 'Cultural and Technological Significance of Historic Buildings' offers a platform where current research being undertaken by doctoral students, associated researchers and guests of the college can be presented both to internal university audiences as well as to the interested public.
This entails weekly or bi-weekly individual studies focusing on historic monuments and the processes of their construction and change from antiquity to the end of the 20th century from the perspective of the disciplines involved in the Research Training Group (architectural history, construction history, art history, historic preservation, archaeology and social sciences).
In the public lectures of the Research Training Group 'Cultural and Technological Significance of Historic Buildings' at the BTU Cottbus-Senftenberg, selected historical buildings are analysed as bearers of the architectural and technical achievements of their time as well as places of memory for building cultures of the past. In addition to reconstructing important phases of architectural history from antiquity to modern times, the current value of historic buildings is analysed; 'Why do we place significance on certain historic buildings and not on others?' and 'What are the symbols and narratives that play a decisive role in this?'
Lecture Series in the Winter Term 2019/2020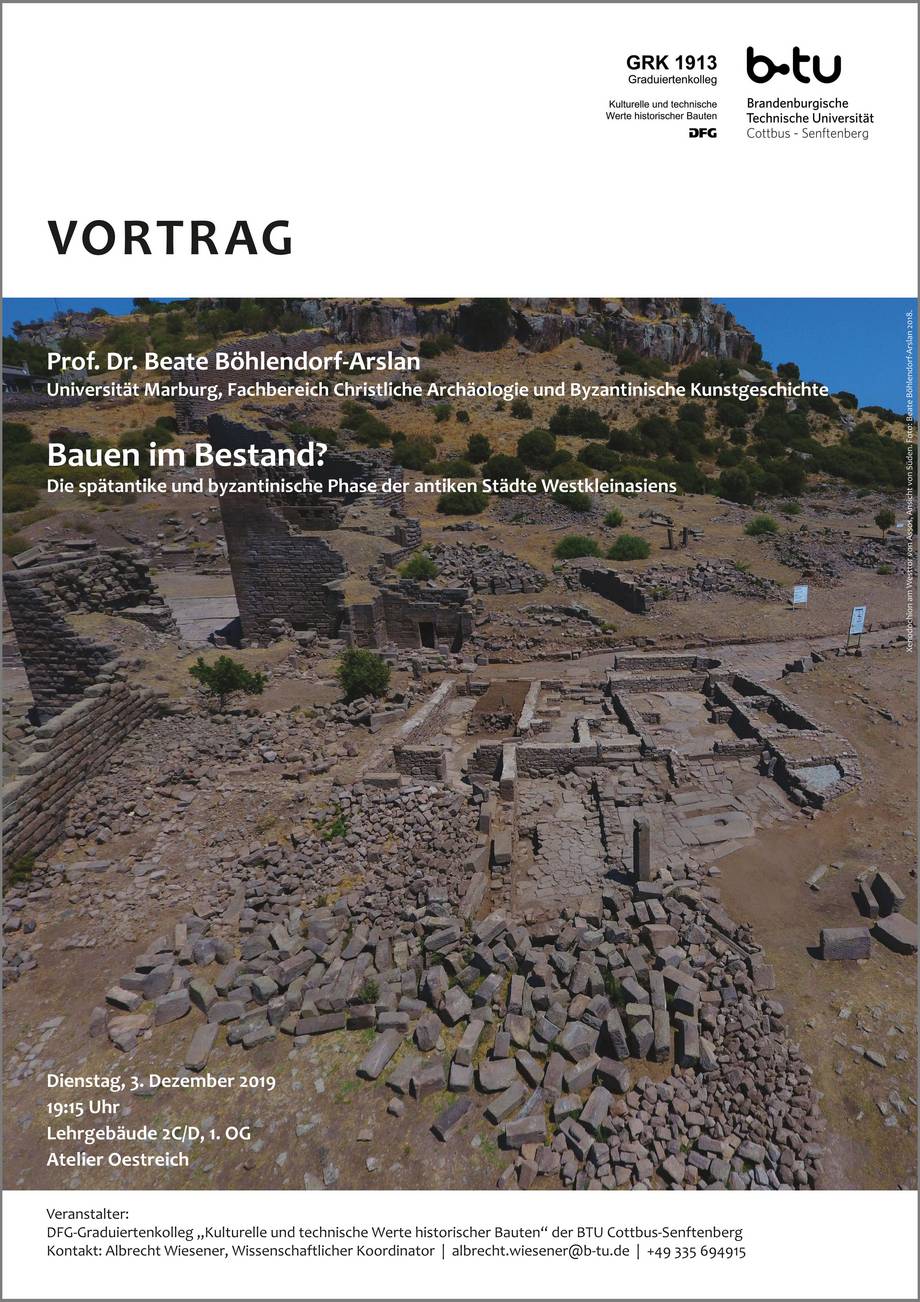 Tuesday, 22 October 2019
Dr. Alexandra Druzynski von Boetticher (Cottbus), Dr. Elke Richter (Cottbus)
Experimentierfeld Cottbus – Der Campus als bauliches Spiegelbild der Hochschul- und Baupolitik der DDR
Tuesday, 5 November 2019
Dr. Peter Schneider (Cottbus), Dr. Constanze Röhl (Cottbus)
Peenemünde, Fertigungshalle 1. Eine Aufgabe zur archäologischen Erschließung
Tuesday, 19 November 2019
Prof. Dr. Sylvia Claus (Cottbus)
Transdisziplinäre Kunstdiskurse. Ein Beispiel
Tuesday, 3 December 2019
Prof. Dr. Beate Böhlendorf-Arslan (Marburg)
Bauen im Bestand? Die spätantike und byzantinische Phase der antiken Städte Westkleinasiens
Tuesday, 17 December 2019
Prof. Dr. Rainer Atzbach (Aarhus)
Die Burg und die Topographie der Macht
The events take place on Tuesdays at 7:15 pm at Atelier Oestreich, Building 2C/D, first floor.