Home office support These tips will help you keep your balance when working from home.
The suitable workplace
Just as in your office, you should feel comfortable at your home workstation. make sure that you clearly separate the work area from the living area. the workstation should have enough space for the laptop and the writing surface and be tidy. it must provide sufficient brightness from daylight or appropriate lamps and should be able to be adequately ventilated to ensure healthy indoor air.
The correct way of working
Since the familiar work structure cannot always be implemented in the same way at home, it is advisable to draw up an individual schedule. 1 to 1.5 hours of intensive work phases followed by 5-10 minutes of active breaks are suitable. These include, for example, business calls, information gathering, short stretching and movement exercises.
Remember to keep to your break times. how about a walk in the fresh air or a pleasant break on the balcony? also draw a clear line between working hours and the end of the day. clothes can also be used to draw an external line.
Tip: Take a walk or cycle for 15-30 minutes before and after working at home, and the symbolic way to work will put you in the perfect mood for the change between work and leisure.
Avoiding exclusion
Stay in touch with your colleagues or your team. regular telephone calls or video conferences allow you to stay in touch despite the physical distance and to exchange ideas, progress, successes, wishes or problems. short virtual team conferences are recommended always in the morning and possibly shortly before the end of working hours.
Don't be afraid to call your colleagues to find out how they are doing and even a short phone call will give you strength and motivation for this extraordinary situation.
On the website of the Center for Scientific Continuing Education you will find many other online offers for your home.
Managers receive tips on how to work successfully as a team in the home office.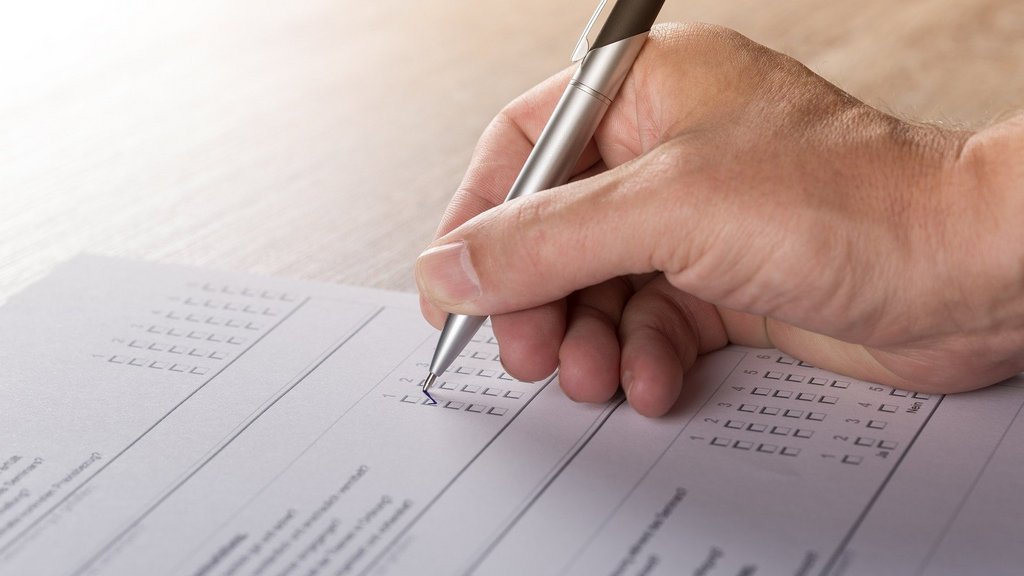 Results of the home office survey
In the period from 13 April to 17 May 2020, 483 employees* took part in the survey on "Challenges and opportunities in the home office", which was compiled in cooperation and coordination with the Occupational Safety and Health Unit, the General Staff Council, the Equal Opportunities Department, the ICMC and the BTU crisis management team. Many thanks to all those who actively participated!
In addition to the opportunities, the participants openly and critically named and evaluated the challenges associated with the home office. in order to provide practical tips, advice and, if necessary, even solutions for the aspects you have been named, the summary not only contains the results of the survey but also measures that will provide you with support through BTU offers.
Everything's upside down. When things get tough...
Working exclusively in a home office is a real challenge for many people, and home offices with children are often a contradiction in terms - and not everything is just a matter of organization! do you also miss the personal discussions on campus? do you simply need an ear for what's on your mind? BTU won't leave you alone in these turbulent times. we listen to you and are happy to help:
Birgit Hendrischke (Tel. 0355/ 69-2324), Holger Thomas (Tel. 0355/ 69-4499), Wolfgang Wiehe (Tel. 0355/ 69-2133), Corinna Bär (Tel. 0355/ 69-2199)
The current situation presents us all with various challenges. To make being alone a little more pleasant, we have put together useful Tips against loneliness.
In addition, all internal advice centres as well as external advice centres will continue to be available for discussions.
Healthy breathing and relaxation of the shoulder and neck area (online course)
This online course is aimed at all employees who want to reduce their stress level in the home office and specifically relax the areas of the body that are subject to stress. The virtual course is led by Ms. Kohlschmidt. You will learn important breathing techniques for regulating the heart rate and receive useful exercises for the shoulder and neck area.
DATES
always 13.00-13.30
24.3; .31.3.; 07.4.; 14.4.; 21.4.; 28.4.; 05.05.; 12.5.; 19.5.; 02.06.2021
All dates can be booked individually and do not build on each other.
REGISTRATION
The registration takes place under gesundheitsmanagement(at)b-tu.de.
Gymnastics at the workplace
For the time when you are online, the Hochschulsport offers online sports courses and brings the health offer "Gymnastics at Work" to your home office. The course schedule is valid on a monthly basis. BTU members can participate in the gymnastics free of charge; there is no accident insurance coverage through the accident insurance company.
EXTENSION CYBERFITNESS - Online courses for fitness, healthy eating and mental balance
Together with BARMER, we enable all employees and students to use the digital fitness platform CYBERFITNESS free of charge until June 30th, 2021.
CYBERFITNESS offers over 500 workouts as well as live classes every Tuesday from 4:30 p.m. to 8:30 p.m. The offers range, for example, from relaxation to dance, fat attack, pumps, back fitness and total body workouts. It invites you to reflect on your own eating habits and to integrate physical activity and relaxation phases into everyday life. It is a free access. This does NOT have to be terminated and will NOT be extended for a fee.
So funktioniert die Einlösung des Gutscheins (hier klicken)
Gehen Sie direkt auf die Webseite https://www.cyberfitness.de/gutschein/.
Geben Sie den Gutscheincode: BTU@home ein und klicken Sie auf "weiter".
Registrieren Sie sich mit Ihren Anmeldedaten und klicken Sie auf "weiter"
Sie erhalten kurz darauf eine E-Mail, die Sie bestätigen müssen.
Geschafft: Sie können sich jederzeit mit ihrem festgelegten Passwort anmelden und bis zum bis zum 31.03.2021 kostenfrei trainieren.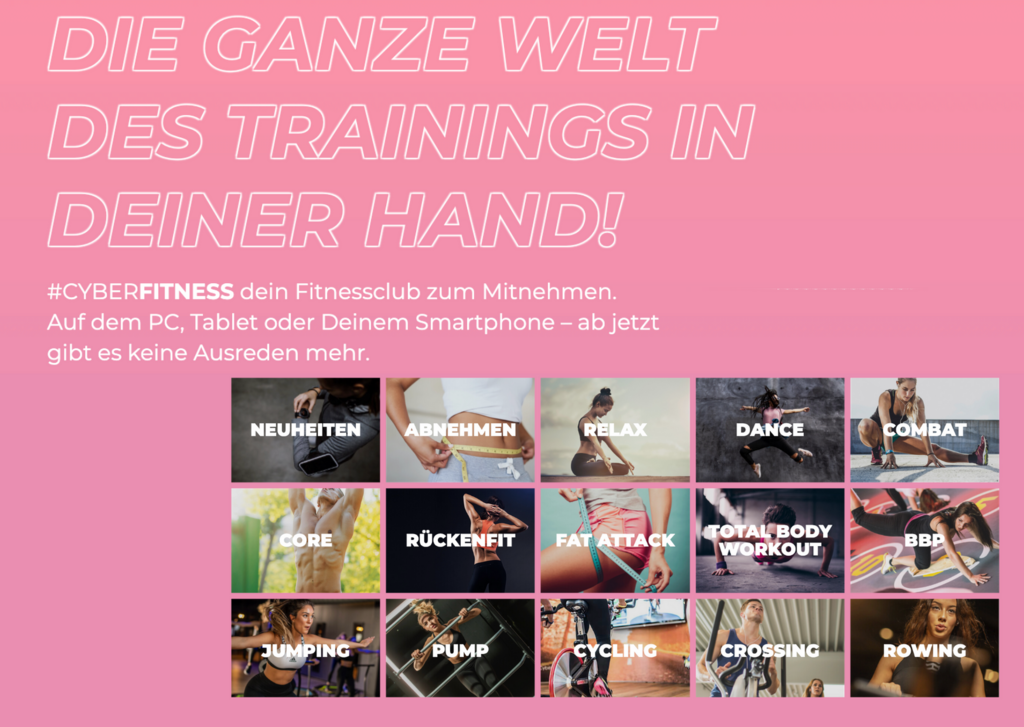 Full body workout with child
The video shows examples of exercises for a whole body training together with small children. each exercise serves as an inspiration and has to be adapted individually to the age of your child as well as to your own physical condition. if certain exercises are not feasible for you due to previous illnesses or operations, they can also be modified or omitted completely. all exercises are also possible without a child and form a good basis for home training. fun during the training and sore muscles the next day are explicitly desired!
Workout for a strong, pain-free back
With this video you can strengthen your back, mobilize your spine and prevent back pain without any aids and comfortably from home. for a strong and stabilized trunk, not only the back muscles but also the abdominal muscles are important. create a balance of your trunk muscles and perform the exercises regularly twice a week. if you have acute complaints or are unsure whether the exercises are suitable for you, please consult your treating physician in advance. And now have fun!
Gymnastics at the workplace
The University Sports Department and students from the module "Project Management in Sports" have made some videos for you about gymnastics at work - have fun participating!
Pausengestaltung im Homeoffice - eine Kampagne der TK
Die Übungsserie zur Blitzentspannung:
Workout für Körper und Geist (Achtsamkeit & Mediation):
Achtsamkeitsübungen zum Download: Atementspannung & Bodyscan
Leisure ideas for at home
Tip 1: take on a new small task every day. how about spring-cleaning, for example? the brain loves to get things done and tidying up is very good for maintaining mental stability. especially when everything is uncertain outside - you can create some order in your own home.
Tip 2: try something new! or what did you do in the past on rainy days? A few examples- Sudoku, Puzzle, complicated handicrafts, programming, painting, baking, cooking, or learn a new language. Anything that's fun is allowed!
Audio stories for children up to 12 years Adventure Fairy Tale Knowledge Fantasy
The unaccustomed work in the home office is currently part of everyday life for countless parents. at the same time, the children have to be looked after and the household has to be taken care of. Age-appropriate radio plays create the necessary freedom for work, the household or simply the nerves.
Gute Nacht Geschichten und Ausmalbilder Von der Zitronenbande
Entdecken Sie selbst illustrierte und geschriebene Gute Nacht Geschichten, tolle Ausmalbilder und interessante Blog-Artikel für Ihre Kinder. Viele Hauptdarsteller sind aus der Natur gewählt, die Kinder beim Waldspaziergang oder im heimischen Garten antreffen können. So können sich Kinder die Handlung der jeweiligen Erzählung besser vorstellen und sie entwickeln ein Verständnis für die Situation der Tiere und die verschiedenen Jahreszeiten. Malvorlagen fördern die Kreativität der Kinder und sind eine tolle Beschäftigung. Die Vorlagen können kostenlos heruntergeladen und ausgedruckt werden.
Games for families without much effort