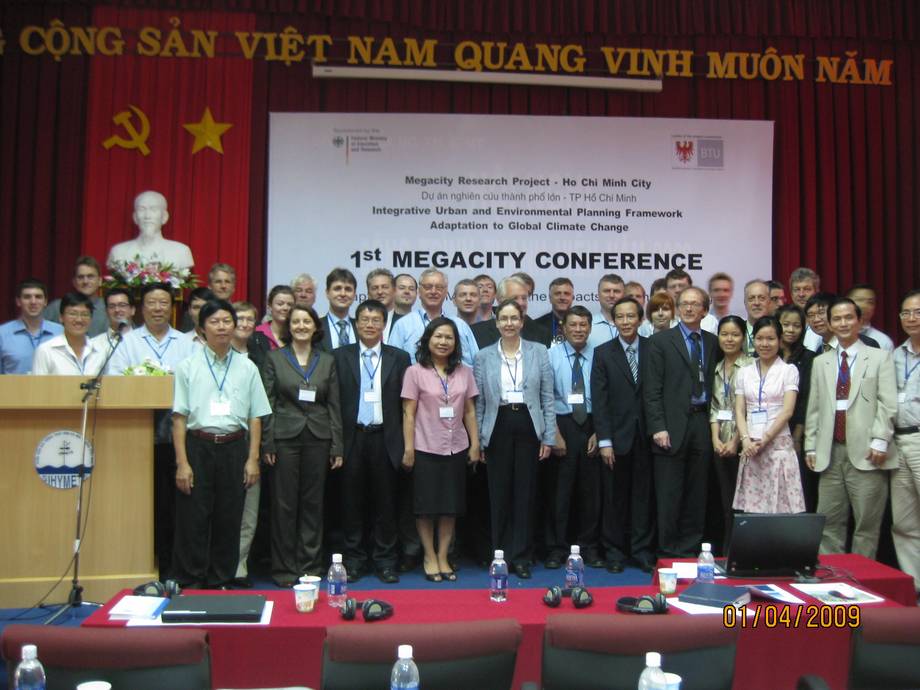 Megacity Research Dialogue Ho Chi Minh City: Planning for a Changing Climate
in cooperation with the Center of Water Management and Climate Change, Vietnam National University, Ho Chi Minh City, and funded by the German Federal Ministry for Education and Research. Main focus of this conference was to present main findings and recommendations for integrative urban and environmental planning that were elaborated within the scope of the project during the past years, such as sustainable strategies for climate-oriented urban structures, energy-efficient housing typologies and comprehensive environmental protection.

The event was held on 12 December 2012 at the Guesthouse of the National Assembly, 165 Nam Ky Khoi Nghia Avenue, District 3, Ho Chi Minh City.
Integrative Urban and Environmental Planning Framework - Adaptation to Climate Change
Sustainable Strategies for Climate-Oriented Urban Structures, Energy-Efficient Housing Typologies and Comprehensive Environment Protection for Megacities of Tomorrow
Cơ chế thống nhất qui hoạch đô thị và môi trường thích nghi với thay đổi khí hậu toàn cầu
Chiến lược bền vững cho sự phát triển đô thị có hiệu qủa về năng lượng và thích ứng với khí hậu, bảo vệ môi trường và các loại hình nhà ở cho các thành phố lớn trong tương lai