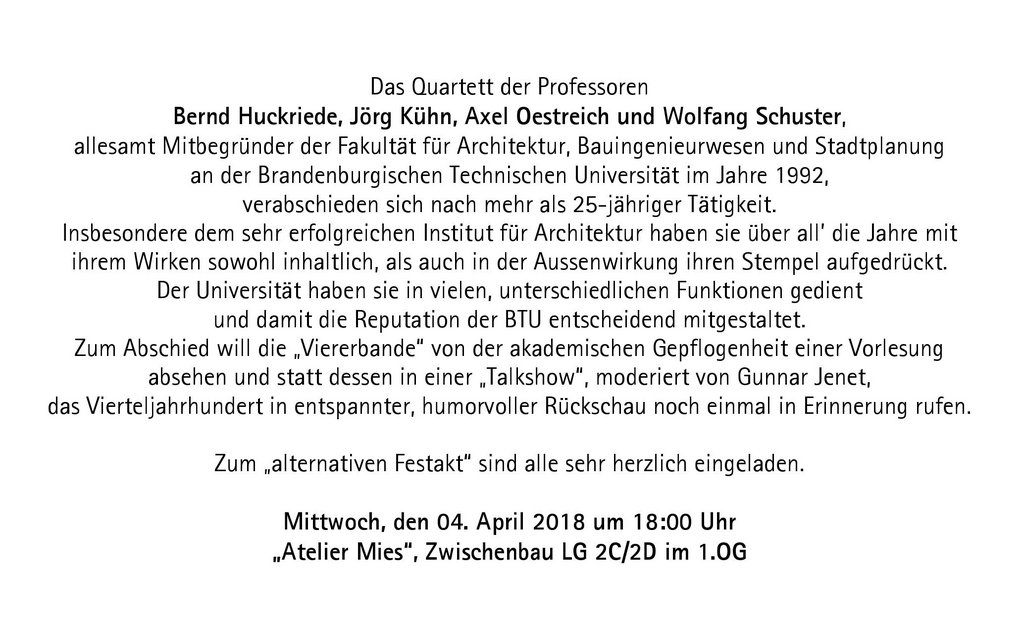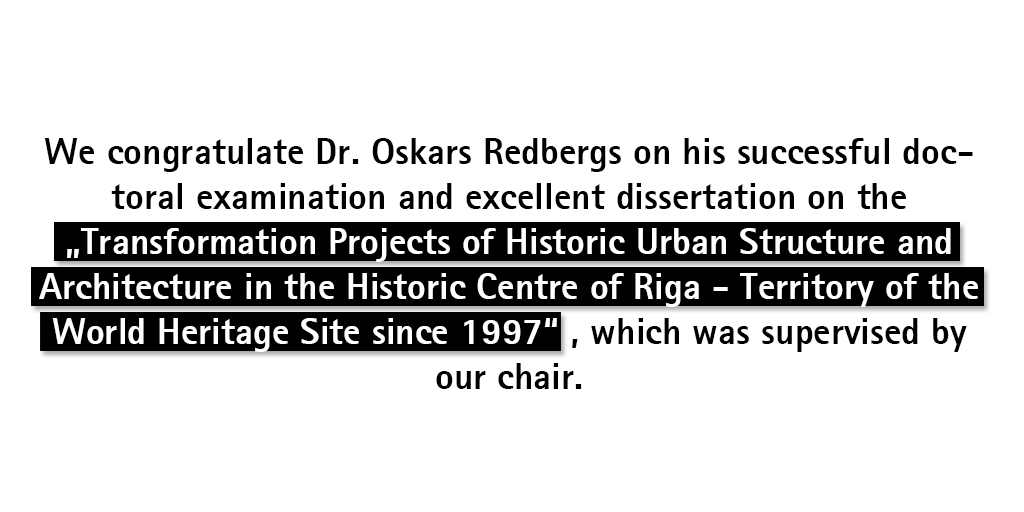 im rahmen des Entwurfsprojekt im Wintersemester 2017/18 führten wir vom 13.11.17 bis zum 18.11.17 einen Workshop zusammen mit Studenten der universidad francisco de Vittoria zum Thema "vertical housing" durch.
In 5 intensiven Tagen entwickelten die Studenten vielversprechende Konzepte für Wohnhochhäuser an drei Standorten in Berlin Kreuzberg.
Wir laden herzlich ein zur Ausstellung: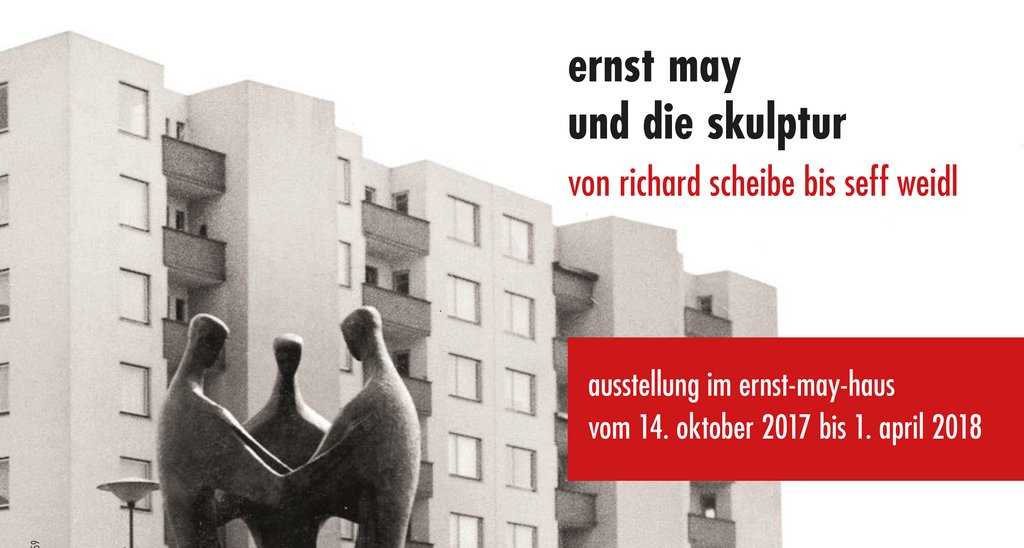 Wir laden herzlich ein zur Ausstellung:
Vernissage am Samstag, 14. Oktober 2017, 18:00 Uhr
Adresse: ernst-may-haus, im burgfeld 136, 60439 Frankfurt am Main www.ernst-may-gesellschaft.de
Vlatka Seremet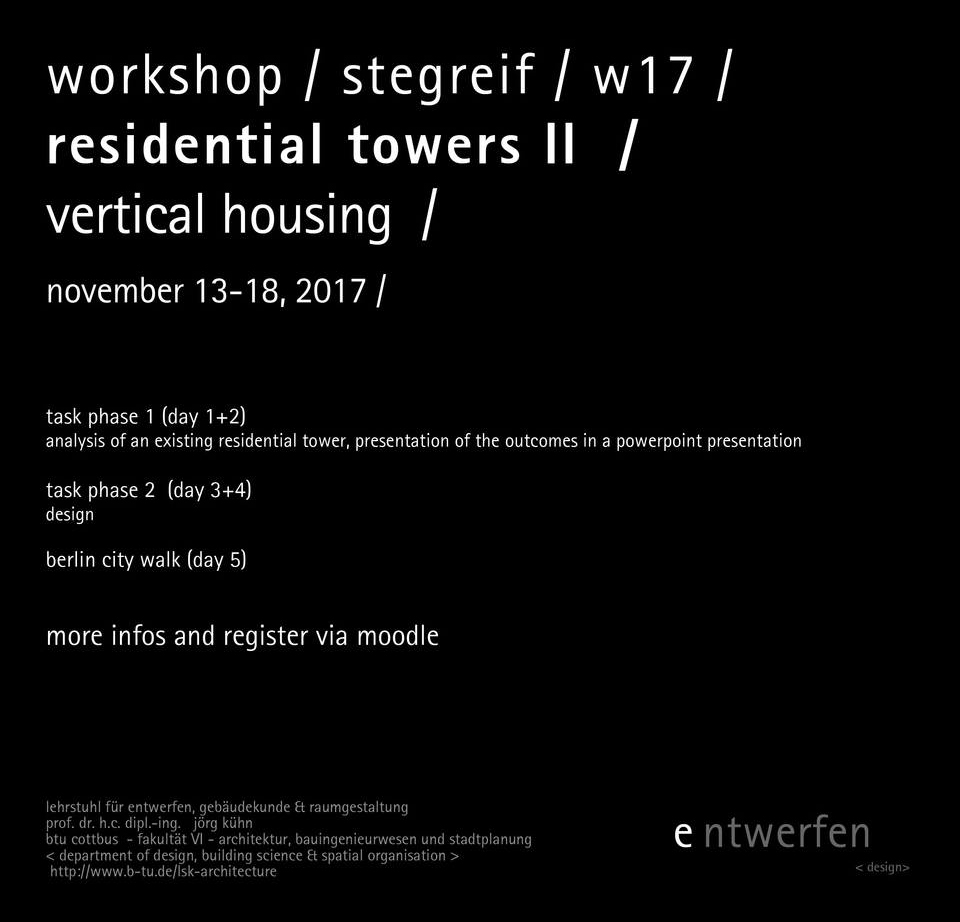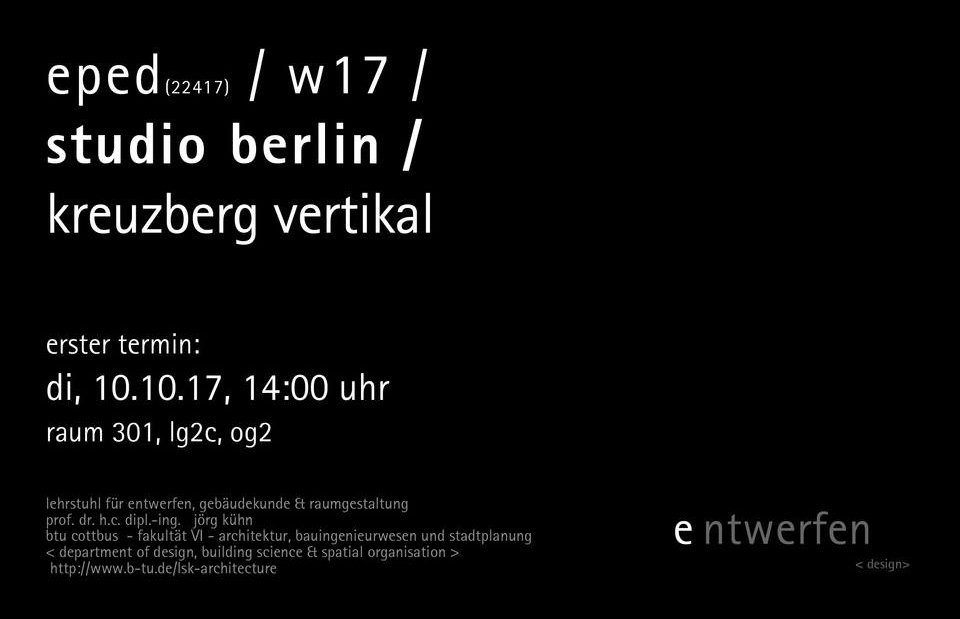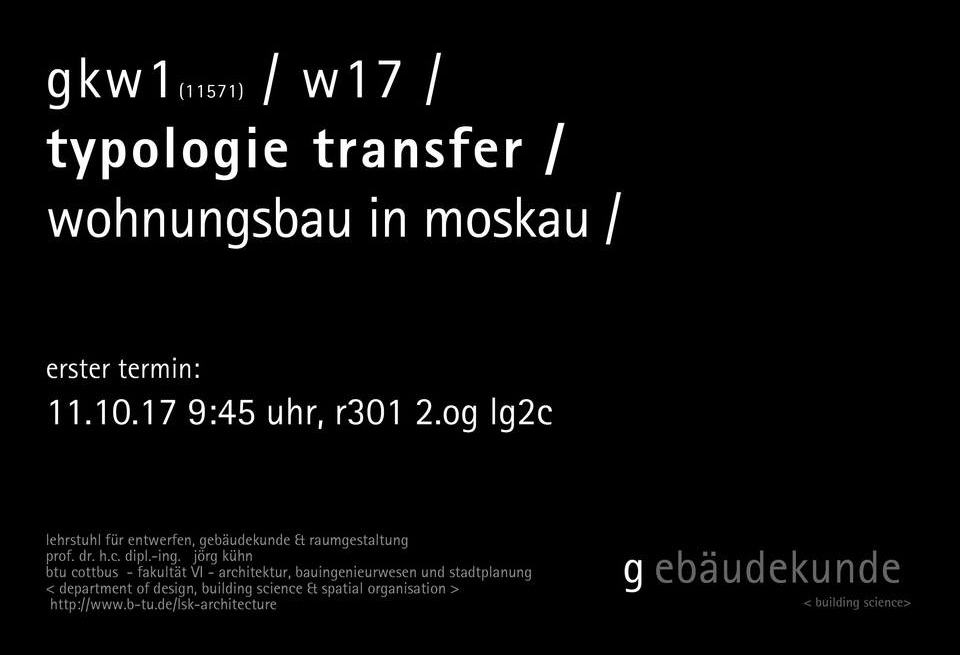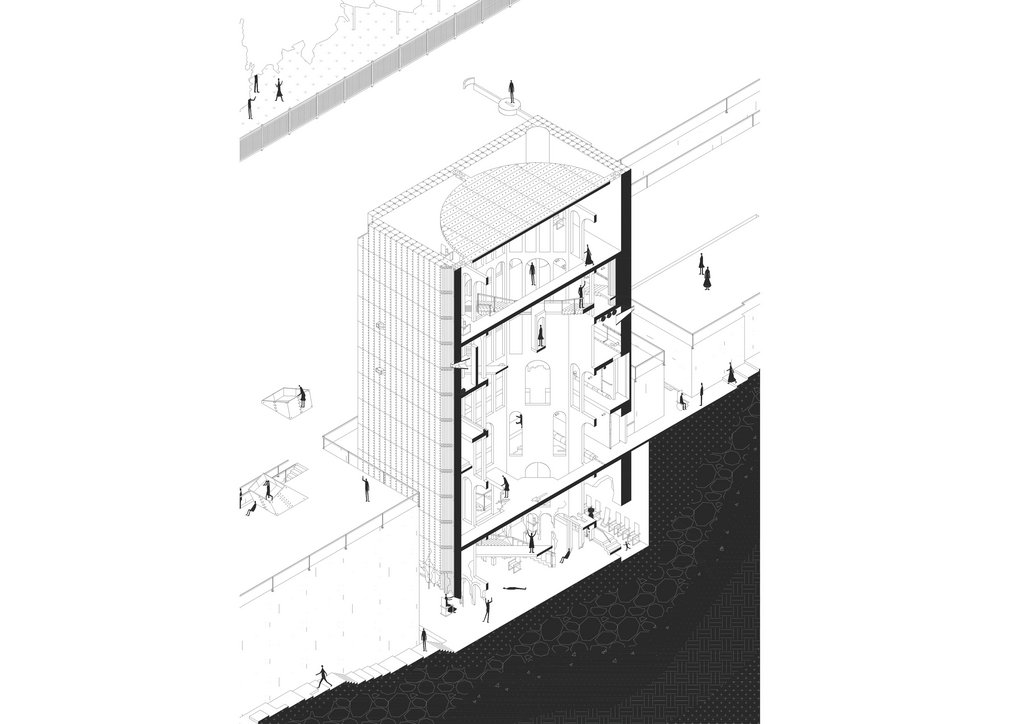 Wir bedanken uns bei unseren ägyptischen Studenten aus Kairo für ein sehr produktives und inspirierendes Semester. Wir sind glücklich, dass nach einem höchst traurigen Anfang die Zusammenarbeit sehr viele schöne Ergebnisse erbracht und auch freudvolle, positive Erinnerungen hinterlassen hat. Wir wünschen unseren Gaststudenten der GUC viel Erfolg auf den letzten Etappen zum Bachelor-Abschluss und gedenken auch Shaden Mohamed, die wir bei all der Freude sehr vermissen. (Bild: The Upsidedown von Youssef Salah)

We would like to thank our Egyptian students from Cairo for a very productive and inspiring semester. We are happy that, after a very sad beginning, the cooperation has brought a lot of beautiful results and also left pleasant, positive memories. We wish our guest students of the GUC a lot of success on the final steps of the bachelor's degree and also commemorate Shaden Mohamed, whom we miss very much. (Image: The Upsidedown by Youssef Salah)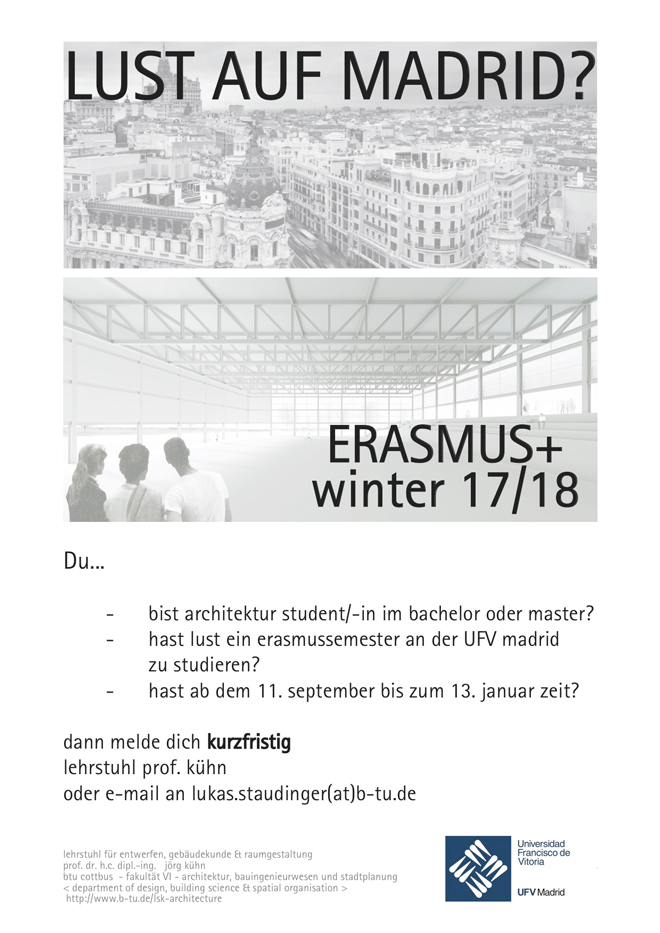 studio madrid / excursion
from april 24-29, 2017 we went on an excursion to spain as part of the design project 'studio madrid'. the program included walking tours, a bike trip and of course a visit of our project site. on top of that we participated in a workshop with the title 'gran via - reporting from the back row' organized by the architecture faculty of universidad francisco de vitoria. together with students from madrid our students analyzed and worked on proposals for the modification of gran via - a main axis through the spanish capital. this workshop helped our students understand the complexity of that area and learn a lot about the neighbourhood of our site. we would like to thank our colleagues in spain prof. felipe samaran, prof. elena farini, pablo ramos and our tourguides from urban matters (enrique ibanez gonzalez, formerly west 8) and madrides (werner durrer) for their effort and input. we couldn't be more prepared for the semester project!
---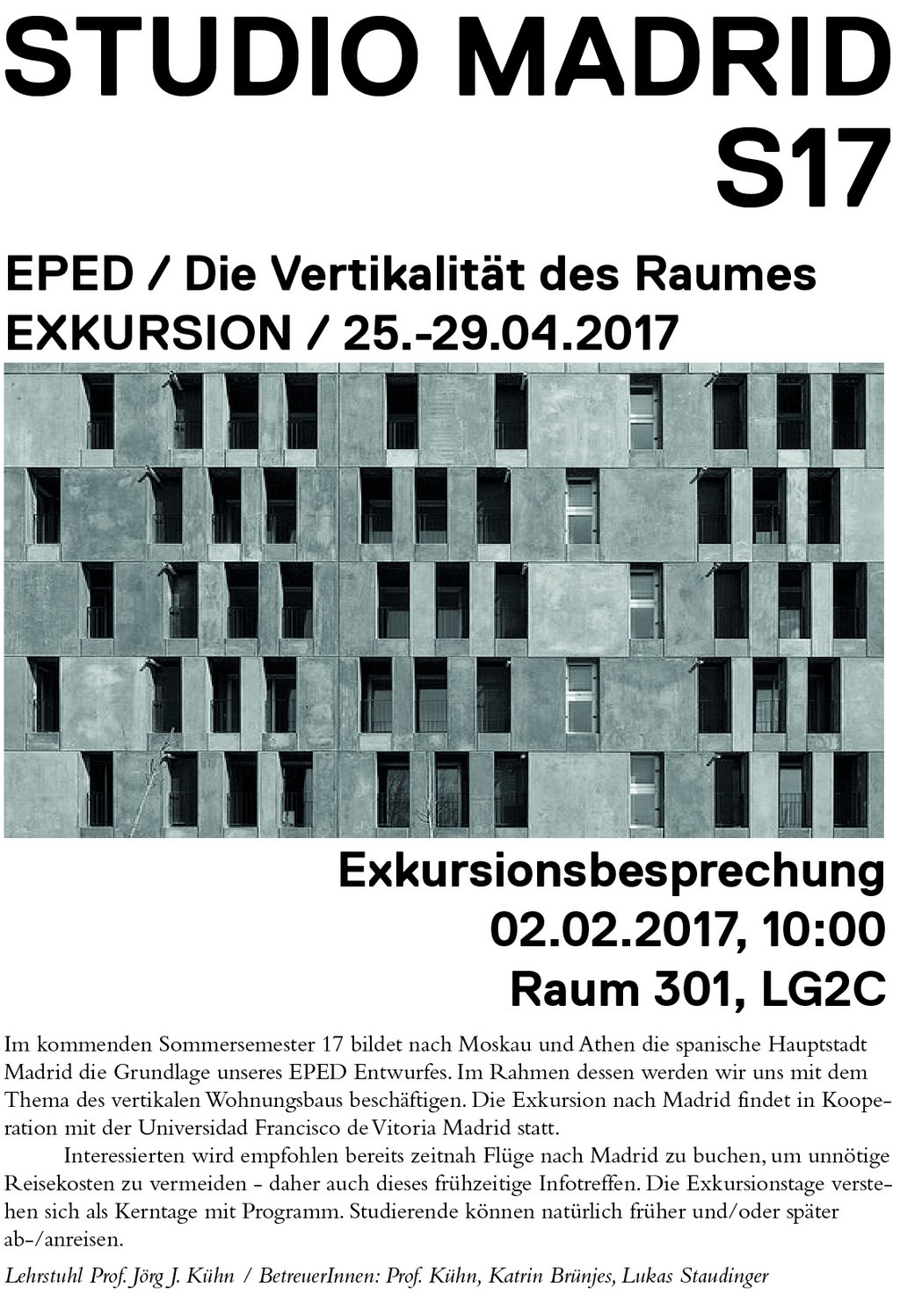 finals STUDIO ATHEN january 31, 17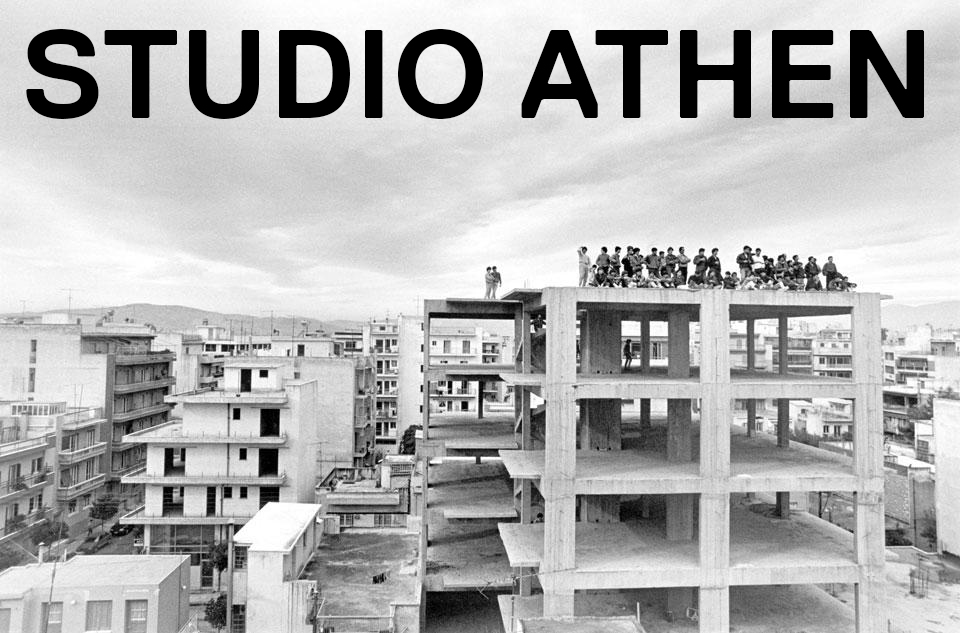 final presentation STUDIO ATHEN on january 31, 10:45am. location: atelier lg2c, og2; with guests from athens
---
workshop vertical housing
we have just finished a 4-day workshop on the topic of vertical housing with students from btu cottbus and universidad francisco de vitoria madrid. in the first part of the workshop the students analysed existing residential towers and transformed the results into highrise prototypes in the second part. we would like to thank all participants for their hard work and the inspiring proposals! we are very proud of the results of these very intense last days. the collaboration between both universities will continue in a workshop and project in the summer term 2017 in madrid.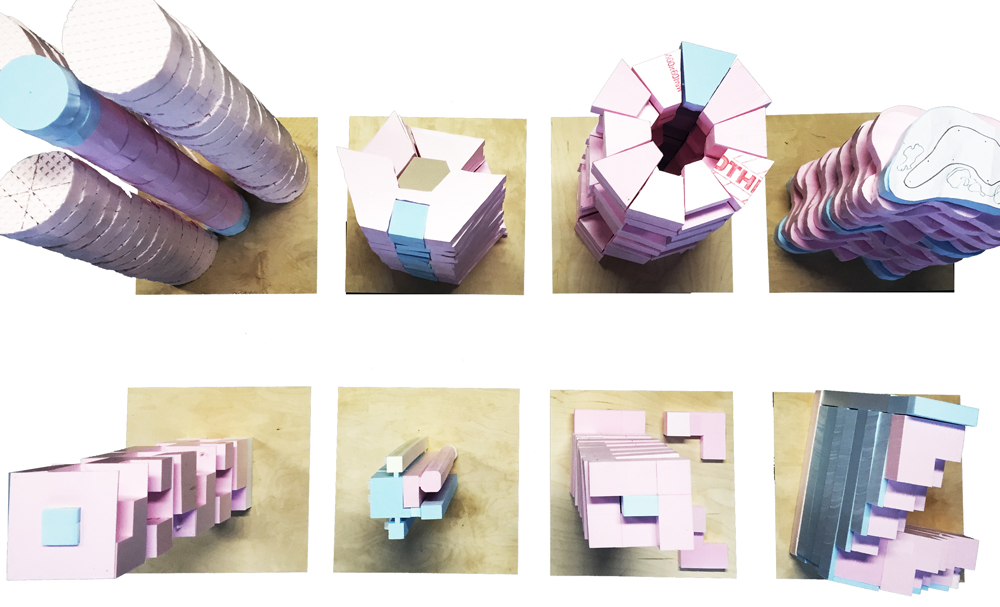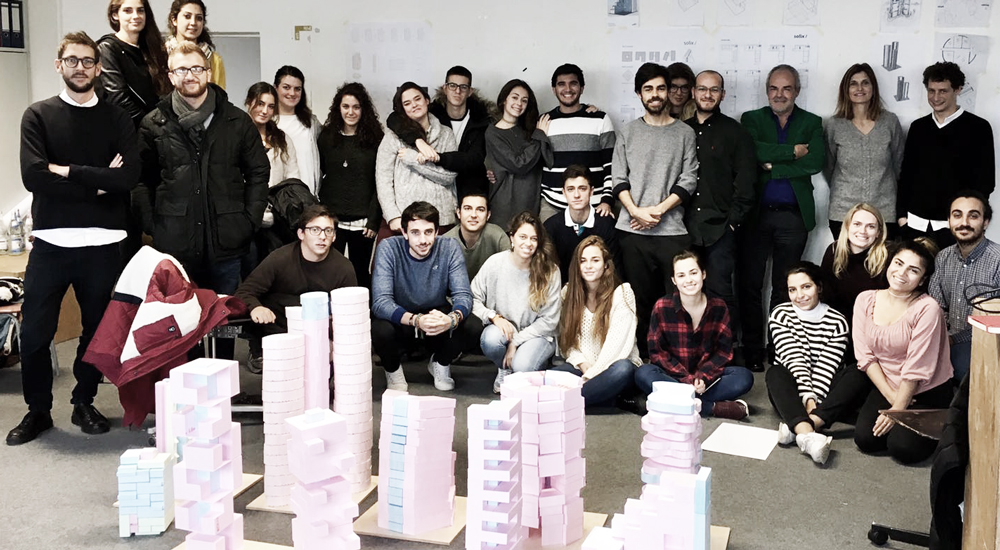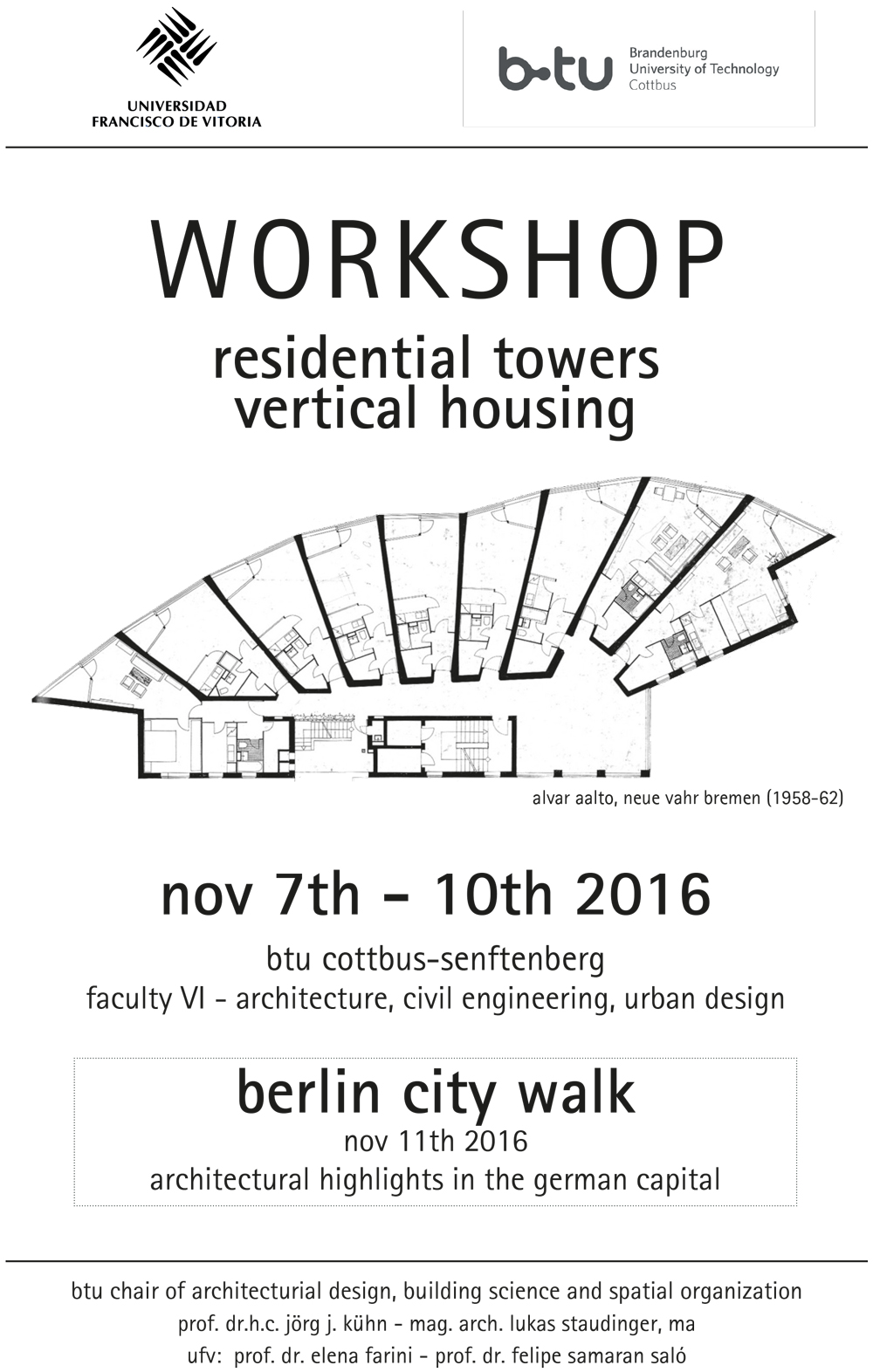 preview winter 2016 / studio athens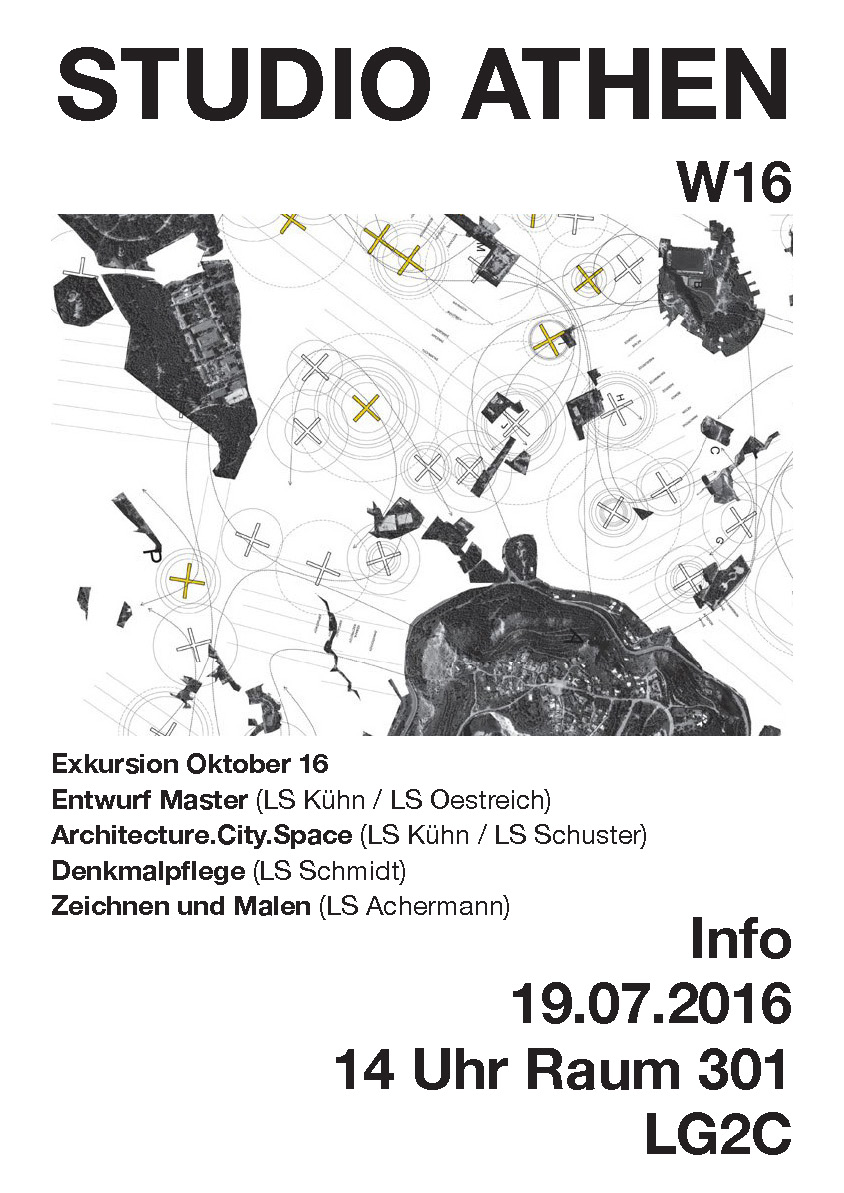 5 chairs - 4 seminars - 1 city.
from moscow we will proceed continuously to athens. athens, a city that at the moment is being discussed intensively due to the political and economical circumstances, is currently reinventing itself. a new generation has taken over. in september 2015 the newspaper 'die zeit' posed the provocative question: 'athens - the new berlin?' crisis as potential?
in cooperation with several chairs from faculty VI we will dedicate the upcoming semester to the city of athens in the framework of an excursion and 4 different seminars: architecturally, artistically, spatially and theoretically.
info meeting excursion/seminars/organisation
july 19, 2016
2 pm, room 301, LG2c
LS Achermann (Bodo Rott), LS Kühn (Lukas Staudinger), LS Oestreich (Katrin Brünjes), LS Schmidt (Luise Rellensmann), LS Schuster (Katrin Rheingans)
---
pin up / best projects from the winter term 15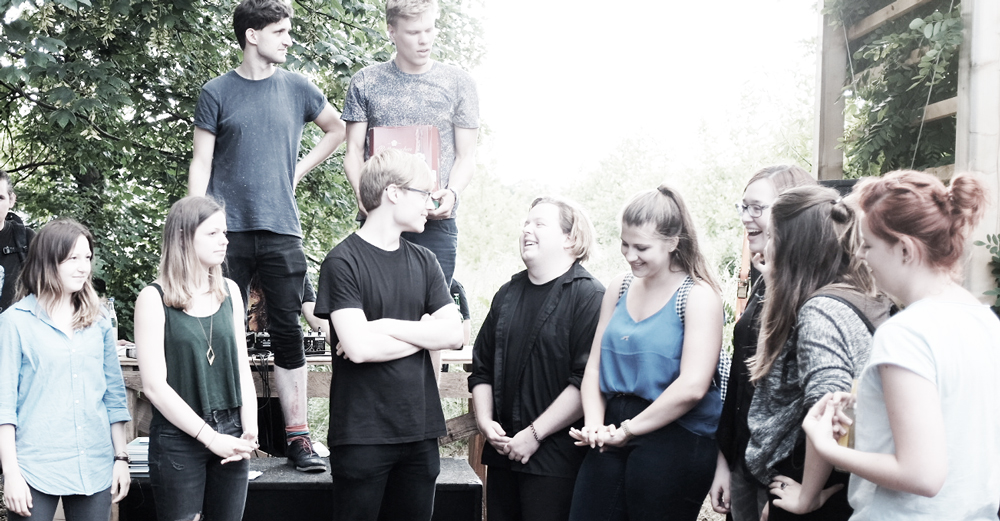 this semester's pin-up exhibition displaying the best works from the winter term 15 took place on june 29. as always the audience could vote for several winners in different categories. we are more than happy to report that also this time projects and works supervised by our chair are among the winners.
for that reason we would like to congratulate our first-year students for winning the first prize in the category 'studio'!
---
final event exhibition ex-eden verbania
the final event of the ex-eden exhibition of last semester's master projects in pallanza triggered a very inspiring public debate on the topic. architects, engineers and local representatives from the municipality participated in the round table. after 40 years of unsuccessful debate and discussion on the redevelopment of the ex-eden site this exhibition succeeded in putting the topic back on the agenda - thanks to the btu projects. the local public praised the event for this impetus.
tv report on youtube
exhibition 'ex-eden' verbania / final round table
guest lecture sergej tchoban / june 08 2016 / 6pm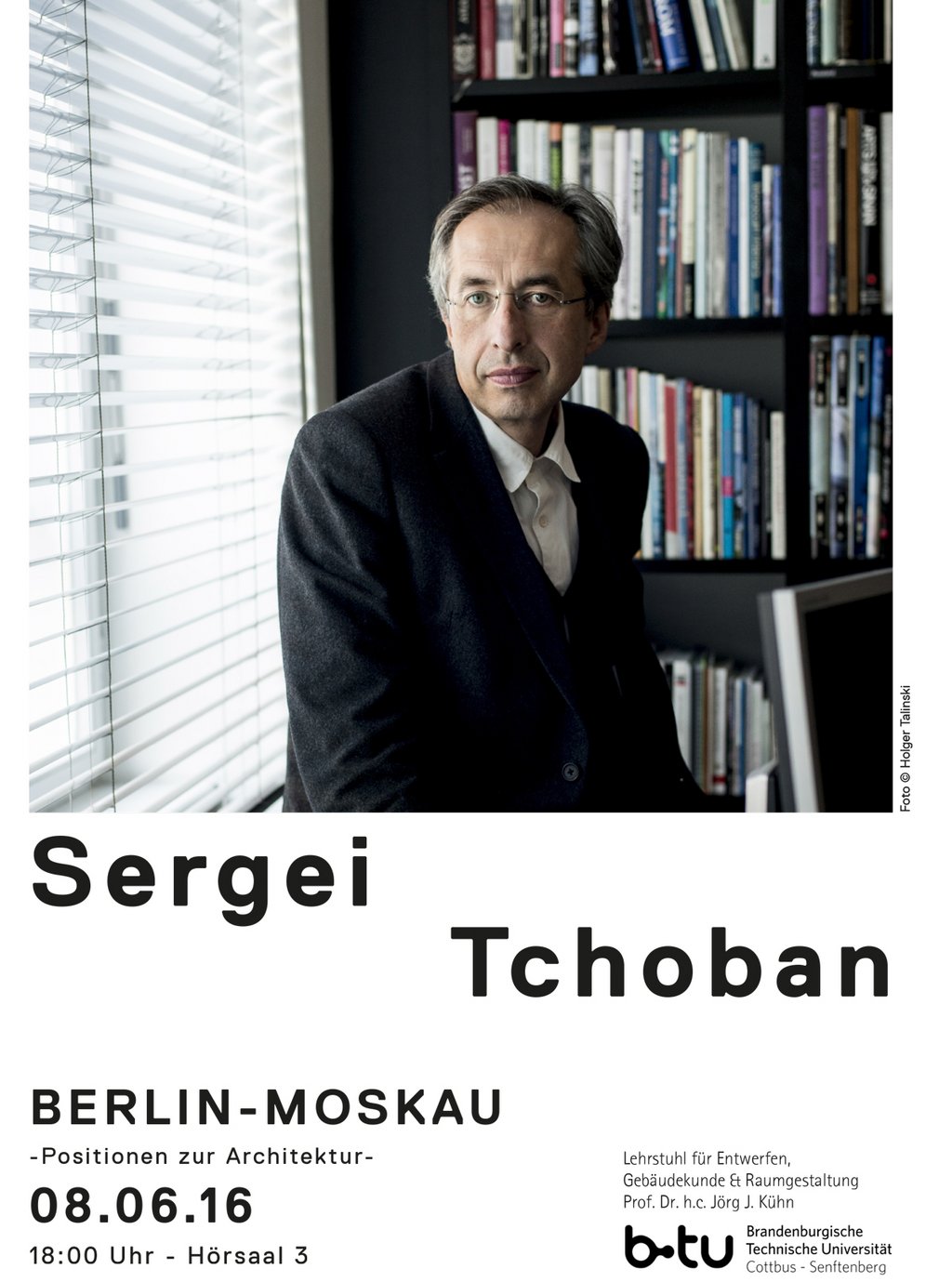 ---
exhibition of the master thesis projects w15 in pallanza / lago maggiore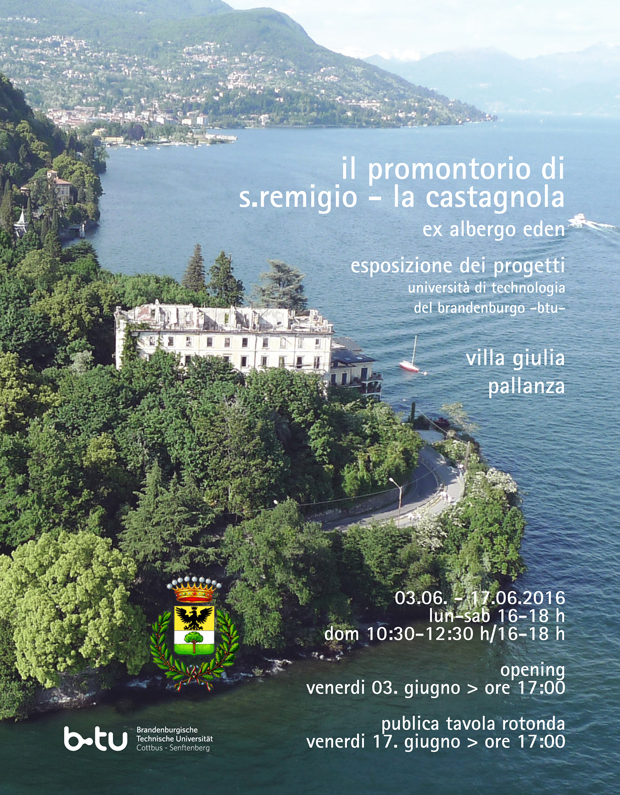 a selection of projects from the master thesis topic 'ex-eden / grand hotel' will be show in an exhibition in pallanza at villa giulia from june 3rd to june 17th. the opening will take place on june 3rd at 5pm. local representatives and prof. kühn will introduce into the exhibition and the design task. our chair is looking forward to welcoming you at the event!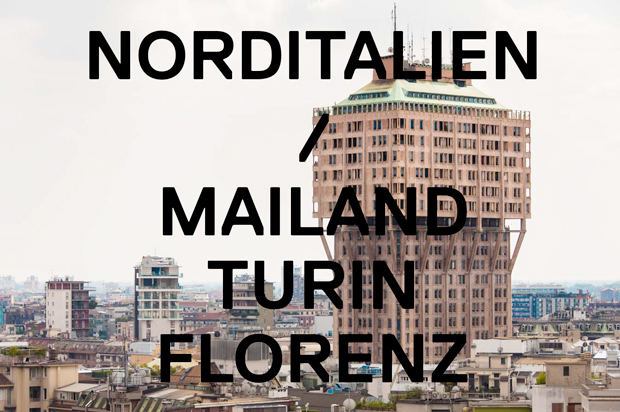 in the summer term 2016 the excursion for our 2nd semester students will take us to italy. we will be visiting several cities such as milan, turin and florence. travel dates are from may 30 to june 5.
---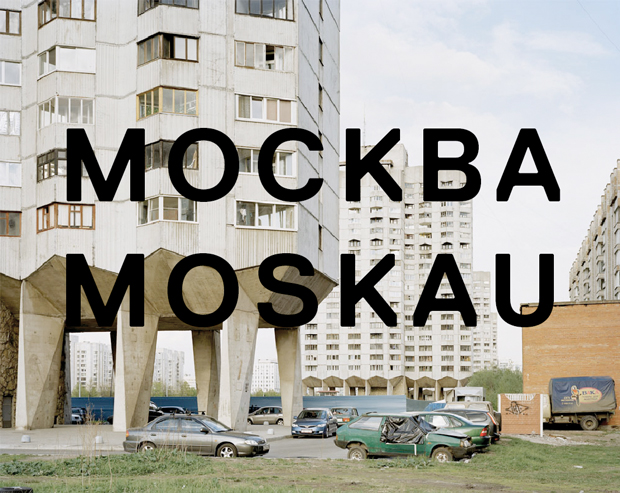 this summer term our chair is intensively dealing with the topic moscow. there will be an excursion to moscow in the second week of may.
---