The Department of Research and Technology Transfer supports academics of the BTU-Senftenberg, in particular young researchers (PhD students and postdocs), with the following services for the acquisition of funding:
Information and advice on funding strategies and funding opportunities offered by the EU, the BMBF and the DFG for research projects.
This can be done individually or by way of lectures (link to lecture as a PDF file), seminars or workshops.
Advice on request for administrative issues (eg: required co-signatures/co-signatories, legal requirements, documents to be submitted, etc.)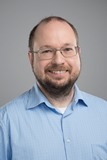 EU Consultant
Dr. rer. nat. Patrick Hoffmann
Central Campus

E
patrick.hoffman(at)b-tu.de
T +49 35569 2938
For questions regarding the administration of external funds, you may also contact the external administration of the University (internal only).
Furthermore, in the pre-application stage, research of the following possible funding sources may be helpful:
Technology and Innovation