Analysis of Qualification, Career and Development Paths for Associates
Analysis and formation of qualification, career and development paths for employees of various occupational categories (Vodafone Group R&D).
Contact person: Christiane Hipp
[Translate to Englisch:] Untersuchung und Entwicklung von Qualifizierungs-, Karriere- und Entwicklungspfaden für Mitarbeiter verschiedener Berufsgruppen (Vodafone Group R&D).
Ansprechpartnerin: Christiane Hipp
Analysis of the Demographic Effects on the Human Capital Value
Analysis of the demographic effects on the employee portfolio formation and structure development in cooperation with an eastern German middle class company. By means of system-dynamic modeling and simulation we test cause-effect relationships and strategies for a sustainable personnel policy.
Contact person: Christiane Hipp
Transfer of Innovation Methodologies
Processing and transfer of innovation methodical knowledge (Vodafone Group R&D).
Contact person: Christiane Hipp
Promotion of Applications for Research Projects
Promotion of the application of research projects (ZIK HIKE). The Federal Ministry of Education and Research supports the initiatives with high innovative potentials for the establishment of centers for innovative competence. The HIKE initiative of the Greifswald University developed a strategy and a concept for the formation of a high-output research centre. We support HIKE with regard to questions of business-managerial nature. On 25.04.2008 HIKE was selected as one of the eight new headquarters for cutting-edge research in eastern Germany.
See also: www.bmbf.de/press/2281.php; www.hike-autoimmunity.de
Contact person: Dr. Birgit Verworn
Business Launching Promotion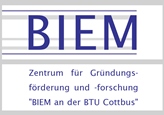 As a member of the local centre for entrepreneurship promotion and research of the BTU Cottbus, which in turn forms integral part of the BIEM registered association, we offer a competent contribution to the entrepreneurial research, training and service. The execution of trainings for potential entrepreneurs: We hold seminars and training sessions together with the pilot service of the Cottbus University and the Lusatian Academy for business-inclined students and for whoever else is interested. Attention is given to practical examples from the region as well as to the exploitation of the development potentials of the participants. In the focal point are the financial, legal and technical evaluations of the business ideas, as well as aspects of self-promotion and businesspeople characteristics. The training sessions are financially supported by the Unitech GmbH.

Contact person: Christiane Hipp

Health and Living Technologies (HeLiTec). Together with the colleagues from the BTU Cottbus and under the guidance of Prof. Hentschel (Media Technology Professorship) we devise technical systems and business models for the fields of medicine, rehab and comfort. Additionally, we had the significant help from Prof. Hipp who worked together with Vodafone Group R&D on the application of InPriMo, objective of which was the support of health control with new sensor technologies.
Contact person: Christiane Hipp