produce (interactive) teaching/learning videos Mediate
Context - Problem - Solution
Context:
College and foundation majors in programs that tend to have high enrollment.
Problem:
Basic knowledge of learners varies widely.
Solution:
In a self-learning phase with tutorials, which consist of instructions and explanations in the form of a film sequence, students learn to acquire theoretical content independently. The teaching/learning videos are short lessons prepared in multimedia form.
Wondering how to make your videos engaging and interactive?
For longer videos: Be sure to create a table of contents to give the video a structure - one that is immediately recognizable to students. This will make it easier for your students to navigate through the video and to (re)find sequences that are important to you more quickly.
But: instead of one big video, create a series of short videos as "microlearning" units. This way, you'll present bites of information and students won't be overwhelmed.
Keep your video short and sweet.
Create a small script/storyboard for yourself to plan your content. This will help you stay focused and keep a common thread.
Only cover one topic in your video with a specific goal.
Use these tips to make your videos engaging:
Summarize important information for your students with an intro clip or simple title card so they know what to expect in the video.
If the lecturer can also be seen in the picture (talking head), this comes across as lively and authentic.
Use natural language. This comes across as down-to-earth and likeable.
Use a story to illustrate your topic (storytelling). Build characters or a plot into the teaching/learning event.
Explain using real-world examples.
Use visual elements, such as pictures and symbols, to illustrate teaching/learning content.
Repetitions provide pauses for thought and reinforce what is being learned.
Explain technical terms.
Increase student engagement with quizzes and interactive elements [PDF] "Interactive learning with H5P in Moodle".
Actively invite your students to follow along with your video and ask thought-provoking questions. Ask for comments/feedback.
Work with captions to provide the most accessible teaching/learning content possible.
Refer to additional sources of information.
For more practical tips, check out our video "DESKTOP DOCUMENTARY - DOCUMENTATION VIA WORDL WIDE WEB"!
In general, the following process applies to interactivating your teaching/learning videos:
Planning the course or script for asynchronous production.
Production synchronously (live session) or asynchronously
Conversion of your video into an MP4 file and upload to the BTU media portal ([video tutorial] and[text tutorial])
Embed and enrich video from media portal via content store (tutorial [PDF] "Interactive Video")
Embed video via activity "H5P" or material "Text field" (Editor: H5P) in course
Perhaps also interesting for you:
Video: "Practice videos in mathematics"
Interview with Prof. S. Schröder about Screencast
The Screencast (with Prof. S. Schröder)
T. Falke: Why do you use screencasts? What is that anyway?
Prof. Schröder: Wikipedia understands it as follows: "A screencast is a digital film that reproduces and, if necessary, describes the processes involved in using software on a computer screen." The Bioinformatics lecture is precisely about this application. For molecular biology, on the other hand, my screencast is a video and audio supported documentation of complex lecture content using a Prezi presentation or PowerPoint slide.
T. Falke: What is the didactic concept behind the use of the learning activity?
Prof. Schröder: The screencast as an element of eLearning supports the didactic "effectiveness" of the lecture. The unrestricted availability of the subject matter as a digital film allows students to independently determine when they want to "process" the material. The intensity of use will vary individually, depending on the level of knowledge. In addition, a screencast ensures that the content is presented clearly and without errors. This is a definite advantage, especially when dealing with demanding topics. In my view, the screencast complements classroom teaching in a media form that is positively received by students.
T. Falke: Can you describe an example where you have used the screencast?
Prof. Schröder: Bioinformatics issues are dealt with using web-based programs. The focus of my lecture is the specific application of this software in "everyday molecular biology laboratory work". The screencast allows me to demonstrate the use of a program in a way that is comprehensible to every student, using a concrete example. The audio commentary complements the visual steps, "mouse movement" and "click activity" on the screen with appropriate notes. In the exercises it is then the basis for the processing of the tasks set. In molecular biology, complex facts are prepared on the basis of a slide via emphasis with the mouse pointer and supplemented by the audio commentary. In the medium term, I would like to introduce topics via a screencast, i.e. to make them available to the students before the actual day of attendance. I hope that this will lead to more targeted preparation on the part of the students and provide a basis for comprehension questions during the lecture.
T. Falke: What problems can be described when using the screencast? What should teachers pay attention to? What are stumbling blocks?
Prof. Schröder: The screencast has one central limitation: the time required. This means that a screencast collection will only be available to students over time. So this element of eLearning can only be used in a targeted way. On the software side, a professional solution should be sought to allow for post-editing, because not every first draft is "perfect." Often students want additions or subsequent changes, which sometimes require a "restart". So far I have been using "Snagit", but would like to switch to "Camtasia" soon, which offers additional editing capabilities. My recommendation to interested teachers: Don't be deterred by initial difficulties, because over time the collection will grow and become an efficient didactic tool!
Interview with Prof.in A. Jost about lecture recordings
Lecture recordings (with Prof. A. Jost)
T. Falke: Why do you use lecture recordings?
Prof. Jost: On the one hand, I use the lecture recordings for students who have missed a lecture, but they are also used in exam preparation. We started using lecture recordings more than 10 years ago. However, the technical requirements and equipment have developed enormously in the meantime. With suitable recording technology, it is relatively easy to make lecture recordings with the support of an assistant. The special feature of these lecture recordings is that the slides of the presentations or the content of the monitor are displayed synchronously with the video image of the lecturer. However, the lecture recordings are not intended to replace the lecture.
T. Falke: What is the didactic concept behind the use of lecture recordings?
Prof. Jost: My didactic concept in the use of lecture recordings is that basic contexts can be repeated. When working on practical questions, the students can also work on open questions using the lecture recordings. However, I also work a lot with texts, so that students can choose whether they want to repeat the basic knowledge from the lecture recording or whether they prefer to read up on it in the sources I provide. In addition to the lecture recordings, I put interviews with real patients and with relatives as video recordings on the learning platform. I consider these videos with real patients better than showing mentally ill people in the auditorium.
T. Falke: What added value do you see in lecture recordings for students?
Prof. Jost: The technical possibilities for using videos have developed enormously in recent years. For example, many students have laptops or other mobile devices, so they can watch the lecture recordings at different locations. Location- and time-independent learning is supported.
T. Falke: What are pitfalls in using lecture recordings? What problems can you identify?
Prof. Jost: The biggest hurdle with these video recordings are the technical problems associated with playing them. Every now and then the videos do not run for some students or the playback quality is not optimal. In any case, the technical vulnerability and technical requirements are higher than when retrieving PDF documents. The second pitfall is that if you are in poor health and are being filmed, you have to ask yourself whether you want to present yourself in this way. But the students know me live anyway. The videos are not intended to be made available to strangers in isolation. The videos are used in the context of the student-lecturer relationship.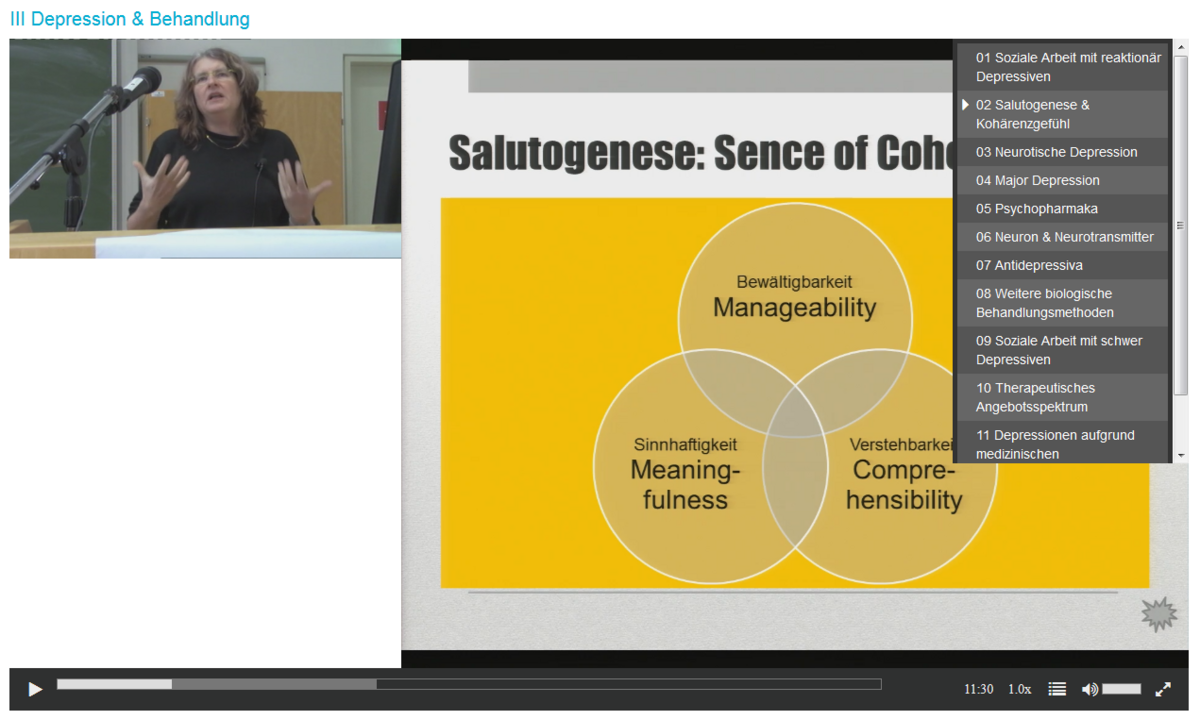 Video: Inverted Classroom at the Department of Quality Management