Samuel Kwesi Osei is an Assistant Lecturer and teaches landscape archaeology in the Department of Archaeology and Heritage Studies, University of Ghana. He is currently a PhD student at the Chair of Environmental Planning, Brandenburg Technical University (BTU), Cottbus. Samuel has experience in applying geospatial science techniques to cultural and natural heritage management. He received his B.A. (Honours.) degree in Geography and Resource Development with Archaeology from the University of Ghana, Legon awarded in 1999. He worked at Daras and Ford schools, Teshie Nungua Estate, Accra, as a teacher prior to his studies in Germany. He studied at BTU, Cottbus, where he obtained an M.A. in World Heritage Studies in 2006. He was a World Heritage intern at the Valletta Rehabilitation Project (VRP) office, Valletta, Malta in 2005. He also hold an MSc. degree in Sustainable Resource Management with focus on landscape management from the Technical University, Munich (TUM) in 2010. Samuel has a broad range of academic and research interests. These include; Land Use / Land Cover Change; Environment and Society; Slavery Studies, Cartography; Digital Elevation Model (DEM) Generation; Geographic Information Systems (GIS); Forests; Cultural Heritage; Cultural Landscapes, Landscape Archaeology and Heritage Documentation; Protected Areas Management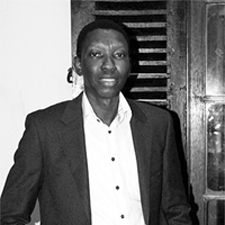 PhD. Thesis
"Ecological Impact of Protected Rain Forests on Neighbouring Local Forest Communities as a Contribution to Sustainable Forest Management: A Case Study of the Ankara Conservation Area, Ghana"
Abstract
Degradation of the World's forest resources is having a significant impact on many communities. One such example is the loss of the tropical rainforest in Ghana. Despite the recognized societal value of forests, many communities are sacrificing this valuable resource without understanding the ecological impact it can have on their community. The result is that few pristine areas now remain. This study seeks to explore the role of protected forests areas on communities as a contribution to sustainable forest management practices. It will make use of remote sensing, GPS and GIS coupled with a combination of qualitative and quantitative surveys to examine the benefits and ecology to communities. The results of this study will help to educate communities about the need to preserve the forest resources, whilst enhancing ecosystem services, protecting livelihoods, and empowering communities to enhance forest governance.
Publications
Osei, S.K. (2014): Combining Geo-historical Information with GIS Techniques: An Example of the Slave Route Heritage in Ghana. In: James Anquandah, Benjamin Kankpeyeng and Wazi Apoh (eds.) Current Perspectives in the Archaeology of Ghana. University of Ghana Readers, Sub-Saharan Publishers. Pp. 65-88.