<! -- -->

Artificial Intelligence Engineering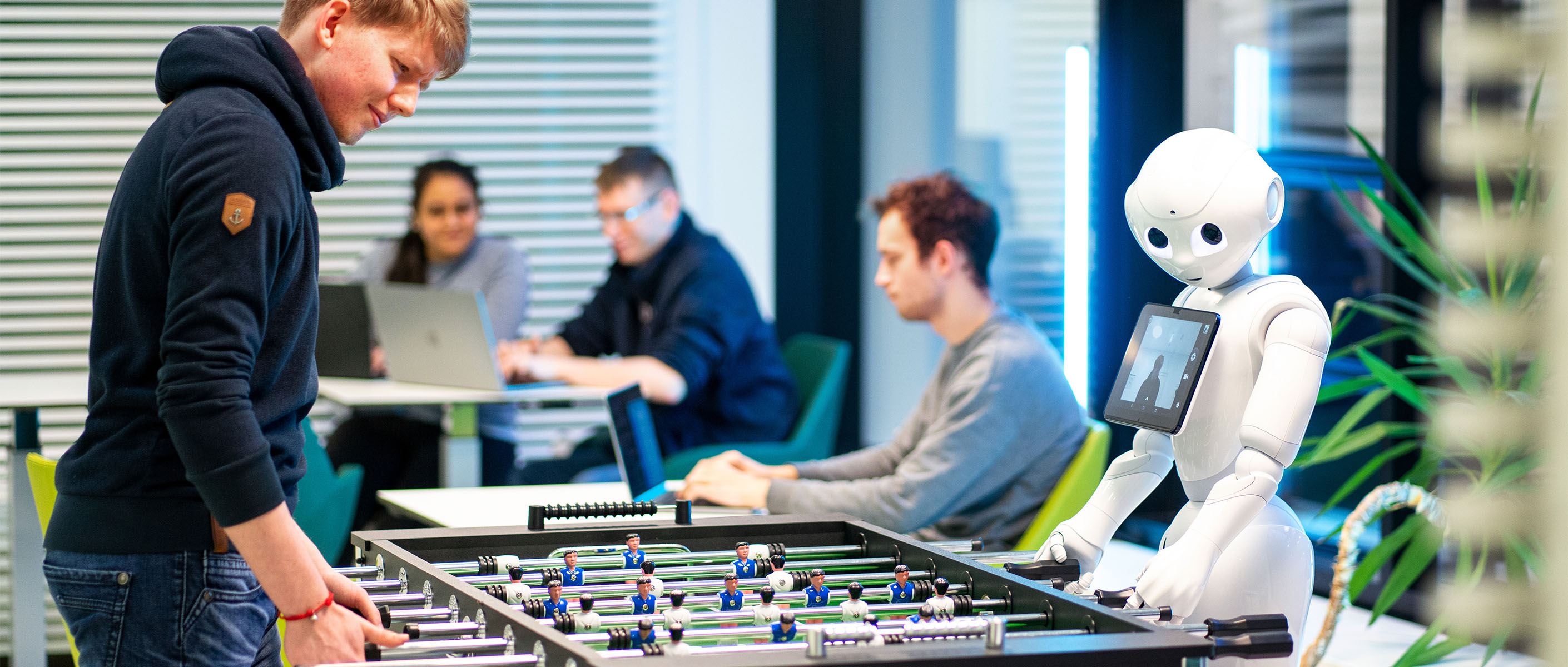 Bachelor of Science (B.Sc.)
Description
Artificial intelligence technologies have become an integral part of everyday life, business, and research: medical diagnostics, virtual reality in industry and entertainment, intelligent assistance systems at work and in cars, and exploration robots in life-threatening environments. If you are interested in understanding and mastering the complex hardware- or software-based systems of artificial intelligence and applying them in professional practice, the Artificial Intelligence Engineering B.Sc. degree program is just right for you. The degree program ideally prepares you to actively work as an AI Engineering expert in this fascinating field.
The program combines current knowledge and modern techniques from computer science, electrical engineering, and psychology in order to implement and use profitable AI systems. Typical applications for such systems are autonomous driving, speech interpretation, early warning, or security technology. You will also be enabled to independently familiarize yourself with diverse applications and to cope with the constantly changing tasks in professional practice. In addition, you will learn to assess and critically question the limits and effects of the use of AI Engineering in a socially relevant context.
The fields of application of AI Engineering and thus the professional fields of AI Engineering experts are very diverse: robotics, cyber security, Big Data, education, medicine, and even complex technical systems in energy supply.
More and more companies and research institutions are securing their future development by becoming active in the field of AI technology. AI Engineering experts are in high demand both in the local region (Lusatia) and worldwide. At BTU, you will be optimally prepared for the dynamic professional world. Many partner institutes, including the Lausitz Center for Artificial Intelligence (LZKI), the Leibniz Institute for High Performance Microelectronics (IHP), the German Aerospace Center (DLR), Fraunhofer Institutes, and Rolls Royce, offer opportunities to work on research projects during your studies.
If you are more interested in designing and further developing AI algorithms, we recommend the BTU bachelor's program in Artificial Intelligence.
Professional Fields of Activity
AI Engineering developer and AI Engineering consultant
Data science and data consulting for process optimization in companies
Data analysis and assistance systems in medicine
Engineering development in the field of AI Engineering
Autonomous driving and assistance systems
Intelligent systems in various industries, e.g. energy technology, environmental technology, traffic engineering, transport and logistics, information and communication technology, manufacturing industry, financial management
Further postgraduate opportunities
Applications and Admissions
All study programmes