Research at the Chair of Environmental Planning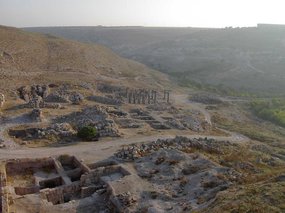 The focus of research at the Chair of Environmental Planning is on land use planning in arid and semi- arid regions under global warming, with special reference to the environmental history. As with the example of the site of Abila (picture to the right), it is examined to which degree desertification is caused by human action or natural climate variations. Apart from that, research at the chair focuses on informal settlements and envrionmental databases.
Environmental information is gathered and interpreted today mainly by those directly involved in the study and development of scientific data concerning natural elements. Integration of this data into specific environmental planning decisions is usually in done a linear or sectoral fashion.
Today, digital environmental data and data evaluation effectively provide information to large numbers of users without losing information. One goal of the research at the Chair of Environmental Planning is to develop the instruments and methods, as well as practical applications for the integration of environmental information within a user friendly framework. This can be achieved through specific methods such as GIS (Geographic Information Systems) or Environmental Databases. These concepts are part of the leading edge technologies available within the Chair of Environmental Planning.