The southern hall of Assos' agora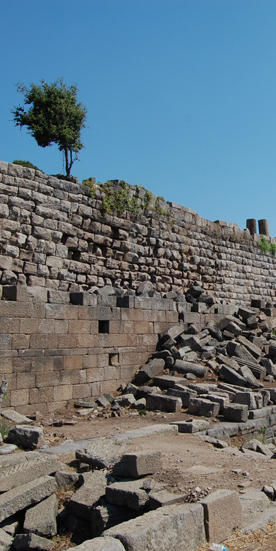 The southern hall of the Agora in Assos is located on a terrace below the actual Agora plateau. South of the stoa, a bath complex was built in Roman times. The top floor of the hall construction demarcates the site towards the south, which is surrounded by a two-storey north stoa, a Bouleuterion and a temple-like building towards the south. The towering south stoa with the Acropolis in the background is an eye-catching feature of the city when seen from the south coast of Troas, the Gulf of Edremit and the opposite island of Lesbos.The position of the south stoa on a terrace beneath the Agora Plateau and the different building techniques of the walls of the terraces and halls built one after the other indicate that the building and the entire site was constructed gradually, in several phases.
The objective of the project is to reconstruct the individual building phases based on an inventory taken at the location and, through comparative architectural history analyses, to classify and develop hypotheses regarding its function and use. Research on the construction history of the south stoa will provide essential insights into the origins and transformation of the urban centre of Assos from the early Hellenic period through to Roman times.
Researcher: Julia Engel
---