Prof. (Univ. Damaskus) Dr. agr. Bachar Ibrahim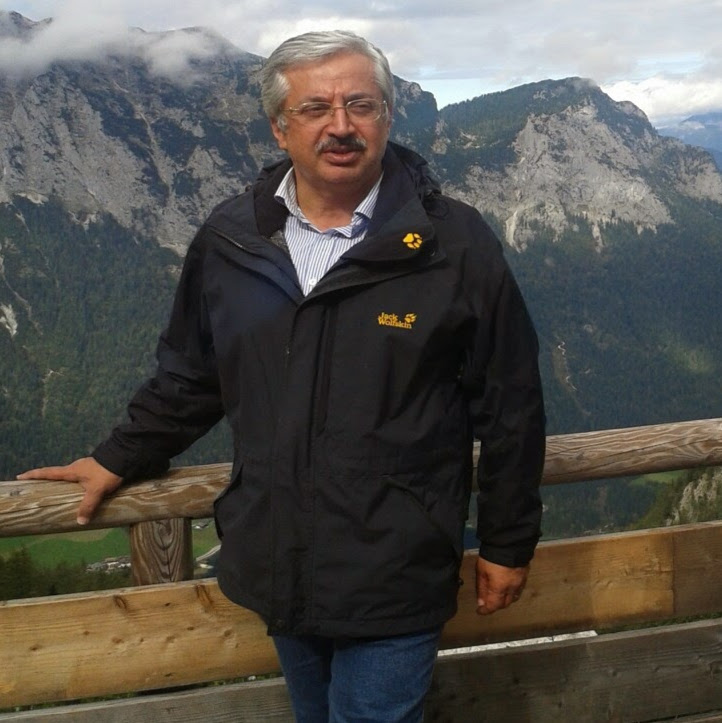 Brandenburgische Technische Universität Cottbus-Senftenberg
Fakultät 5 für Wirtschaft, Recht und Gesellschaft
Lehrstuhl Öffentliches Recht, insbesondere Umwelt- und Planungsrecht (mit Fachgebiet Zivilrecht)
Lehrgebäude 10
Raum 524
Erich-Weinert-Str. 1
03046 Cottbus
T +49 (0) 355 69 5593
F +49 (0) 355 69 3057
bachar.ibrahim(at)b-tu.de
Office hours:
Monday: 10:00 - 12:00
November 1989 - December 1993, research on irrigation and drainage issues cultivation and management of the clay soil
January 1993 - December 1999, research on environmental problems like waste water treatment, decentralize solution for waste water problems in rural area and water contaminations
January 1999 - December 2001, Material Flow Analyses Systems, Nutrient System in Agriculture
January 2001 - December 2003, Agriculture, Rural Development and Design
January 2003 - present, Water Management for Agriculture, Environmental Monitoring and Water Footprint
January 2008 - 2010, Conservation Agriculture in Arid Regions
2003 - 2007 Advisor for Environmental issues at the Japan International Cooperation Agency (JICA)
2007 - 2011 Department Head - Rural Engineering, Faculty of Agriculture University of Damascus
Associate Professor at University of Damascus, Faculty of Agriculture, Department of Rural Engineering
since 2007, Licensed Syrian EIA expert and listed EIA trainer
Consultant for EU-Project, Life Programme ''Solid Waste Management in Syria''
Coordinator of ARCA-Net, Consortium: Water Scarcity, Alumni Raising Crises-&-Conflict Awareness
N. Stabenau, B. Ibrahim, W. Stinner (2018): A potential phosphorous fertilizer for organic farming: recovery of phosphorous resources in the course of bioenergy production through anaerobic digestion of aquatic macrophytes. Energy, Sustainability and Society 8 (1), 16.
B. Ibrahim, H. Mensah, Linking Environmental Water Scarcity and Options for Adaptation in the MENA Region, in: Journal of Water Resource and Protection, S. 378-392, 2017
H. Mensah, B. Ibrahim, Alternate Solutions Towards Sustainable Irrigated Agriculture in Ghana: Review of Literature, in: Journal of Agriculture and Sustainability, S. 53 - 79, 2017
B. Ibrahim, Climate Change Effects on Agriculture and Water Resources Availability in Syria, in: Implementing Adaptation Strategies by Legal, Economic and Planning Instruments on Climate Change, Albrecht/ Schmidt/ Mißler-Behr/ Spyra (Hrsg.), Springer-Verlag GmbH Heidelberg, 2014.
B. Ibrahim, A. Yakoub, Effect of 15 year Application of municipal solid waste composts on the Chemical Specifications of Soil, under reviewing by the Journal of Scientific Research ACSAD, 2013.
B. Ibrahim, A. Yakoub, Testing the effectiveness of using the anaerobic treatment approach for treating the available organic material in rural Damascus, under reviewing, by the Arab Gulf Journal of Scientific Research, 2012.
B. Ibrahim, A. Yakoub, Using the CROPWAT Model in scheduling irrigation and determining water use of cotton in two areas in Syria, Journal Arab Gulf Journal of Scientific Research 2009 Vol. 27 No. 1/2 pp. 70-77 ISSN1015-4442.
B. Ibrahim, Research team Report of the Palmyra Region Strategic Action Plan, MAM-Project, Syria 2008.
B. Ibrahim, A. Yakoub, General view on the Mineral water, Study for the Arabic encyclopedia, Damascus, Syria 2005 (Arabic).
B. Ibrahim, Study on the Method of the Rural Development under Syrian, conditions Report during Gets Prof -staying , Rostock University 2002.
P. H. Brunner, B Ibrahim, Terminology of new Science "Metabolism of the Antroposphere" TU-University of Vienna, 2001.
B. Ibrahim; A. Jakoub, Improving the efficiency of Drainage using in the Slain Basin (Arabic) Journal of Aleppo University, issues 36, 2000.
B. Ibrahim, A. Yakoub, Irrigation and Drainage Book, Damascus University 2000 (Arabic).
B. Ibrahim: A. Yakoub, Increase the Drainage efficiency by using the crakes in the soil Alkalij Jurnal, 20,1,55, 2002 (Arabic).
B. Ibrahim, A. Nassour, Study on the possibly use of the Biogas methodic under Syrian Condition University of Rostock 2002 (German).
B. Ibrahim, A.Yakoub, The uses of the Crakes in the Clay Soil for Improving the Drainage Efficiency, Aleppo Journal Issues 35, 2000 (Arabic).
B. Ibrahim, Shnawi A., The Uses of Filter and Design of Drainage Pipes in Clay Soil, Study, Damascus University, 2000 (Arabic).
B. Ibrahim, Food Security, Water Savings and Environmental Protection, conference, Water Scarcity in the Middle East Conflict Potentials and Coping Strategies, 22-26 October 2007, Damascus, Syria.
B. Ibrahim, The Material flow Analyses (MFA) as a tool for the Preparation of the Environmental Impact Statement (EIS) EIA Licensing Practitioners Workshop, 22 July-02 August 2007.
B. Ibrahim, ARCA-Net Iran Conference "Conflicts, Conflict Resolution and Natural Resources in the Middle East" Water Resources Monitoring and Management Constitute a Potential Social and Environmental Conflict, 2006.
B. Ibrahim, Global view on water scarcity water availability, International Alumni Summer School (IASS) 2005, The Importance of Natural Resources in Crises & Conflicts Causes, Consequences & Perspectives, August 21 to September 03, 2005 (Faculty of Agriculture and Horticulture Humboldt-University of Berlin).
B. Ibrahim, The development of landfill site operation in Syria. Workshop "Landfill Management in Syria" Sept. 19-22, 2005, Damascus University, Syria.
B. Ibrahim, Water Availability Water situation in Syria International Workshop of the Berlin Alumni Network - BAN, Productive Water Use for Sustainable Agriculture, in Semi-Arid, Environments 06 - 09 December 2004, Arab Center for the Studies of Arid Zones & Dry lands - ACSAD, Damascus, Syria.
Damascus University
Faculty for Agriculture
Department of Rural Engineering