Programme content
The international Master's programme comprises four semesters with in total 120 credit points. It is divided into an advanced studies (specialization) phase within the first two semesters and a research phase in the final two semesters. Within the advanced studies phase in the first year, students acquire the special knowledge in order to accomplish the Master thesis in the second year.
The category of modules within each semester is shown in the following table. Students acquire 30 credit points (CP) within each semester. Examination and teaching language of the course is English.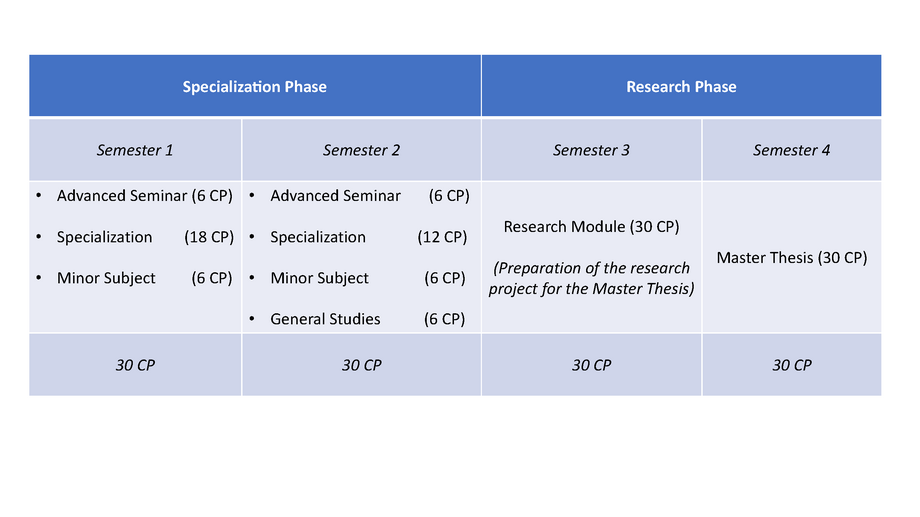 Specialization Phase:
Advanced Seminar: Students are required to attend one seminar in theoretical physics and one seminar in applied/experimental physics with 6 CP each. Within each seminar prepare a script and oral presentation for an actual research topic.
Specialization: Based on these modules students acquire the special knowledge in one of the topics "Nanophysics", "Condensed Matter Physics" and "Theory/Simulation" which are closely connected to the research topics of the institute of physics at the BTU Cottbus-Senftenberg. Required are 30 CP's in total for the specialization modules for which the actual list can be found HERE.

Minor subject: These modules (12 CP in total) convey the tight relations between physics and mathematics, electrical engineeringm chemistry and computer science. Alternatively the minor subject can be completed as an internship. The complete list of minor subject modules is listed in the study regulations for "Physics" LINK.
The master programme "Physics" is supplemented by a course from "General Studies" (6 CP) which conveys interdisciplinary competences in a broader area. The current list of General Studies modules for "Physics" students can be found here:
Reseach Phase:
Research Module: The research module comprises 30 CP and is divided in a project related planning phase, laboratory course and working group seminar. The research module should be to be completed in the same working group which also provides the topic for the master thesis.
Master thesis: Students work independently but under supervision on a research project. The module is completed with the written master thesis and an oral presentation on the results of the corresponding research project.