Imagines Cathedralis Ecclesiae Compostellanae (ICEC)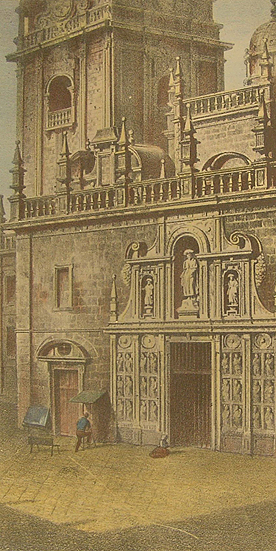 The aim of the project is to locate, classify and study all of the images of the cathedral of Santiago de Compostela, the end of the Way of St. James, now a World Heritage Site, created by painters, draftsmen and engravers from different countries from the Middle Ages until the appearance of photography. The ending point is at 1915, when Roman Lopez y Lopez published the first guidebook of the city and the cathedral illustrated with photographs (Santiago de Compostela. Guía del Peregrino y del Turista, Santiago, printed by El Eco Franciscano in 1915), and when the publication of photos of the cathedral became generally widespread in tourist guides of the city. Significantly, the guide by Lopez y Lopez was re-published numerous times with the same photos up until the 1970s, and was translated into English and French.
Over such an extensive timeframe, we find a large number of different pictorial techniques (miniatures, drawings, oils, frescoes, watercolours, gravures, etc.), providing a wide variety of material with a vast amount of historical information. Many of these images were created by Spanish artists such as the Church Warden Jose de Vega y Verdugo (1657), Juan Lopez Freire the Younger (1799), Ramon Gil Rey (1842), or the correspondent of Le Monde, Daniel Urrabieta Vierge (1880), who produced drawings of great documentary value. Foreign artists also produced interesting representations of the cathedral, including the Italian Pier Maria Baldi (1669), the German Geronimo Munzer (1494), Flemish artists including the author of a miniature of the Main Chapel in the Cartulario de Tournais (c. 1486), or the board on display at the Indianapolis Museum of Art with the same theme (c.1476); British artists, including the draftsman in the retinue of the Count of Sandwich (1666), or John Todd, who created a little-known draft in the early 19th century. There are also engravings during this time, ranging from early popular artisans to the more descriptive creations from the 19th and early 20th centuries, by William Wallis (1838), Charles Lalaisse (1837), David Roberts (1838), Jules Jean Huyot (1846) or J. Shuts (1840), used to illustrate guidebooks for tourists and travellers. Obviously, the images of the monument are not concentrated in one fund, museum or specific location, but are scattered throughout a large number of archives, libraries, museums and private collections all over Europe.
Researcher: Miguel Taín Guzmán