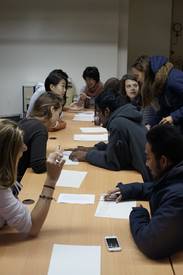 Location of Common Room: LG 3B, Room 0.20 (Basement)
For the students of the international course of study ERM a common room has been installed which serves the function of a communication centre and meeting place. Here computer facilities are available including internet and email access. It can be used to keep in touch with fellow students, friends and family and to get access to news about the respective home countries.
Especially during the exam periods when the library is crowded this is the perfect place to study alone or in small groups.