<! -- -->

Medical Engineering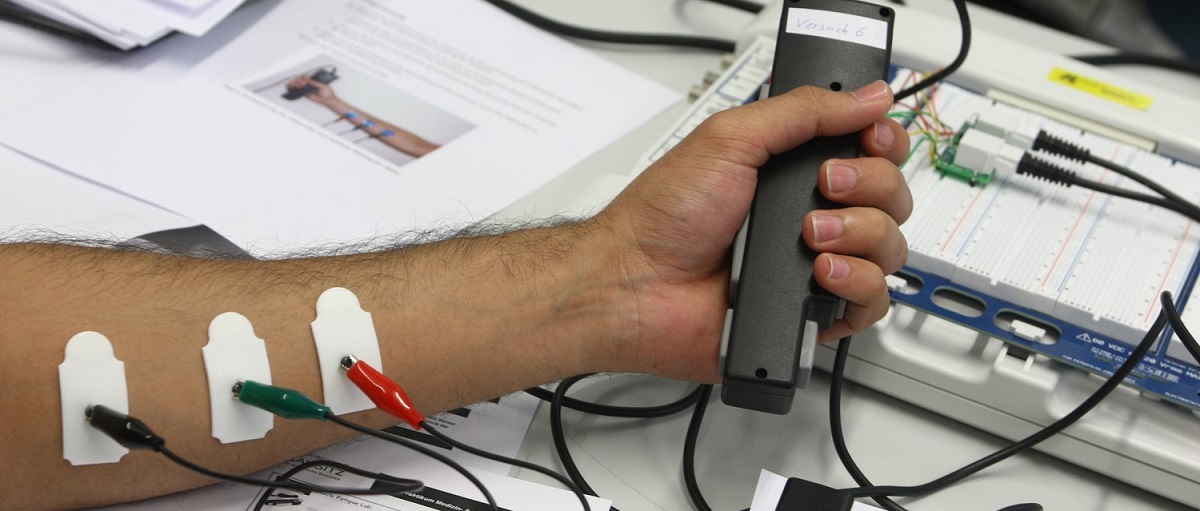 Bachelor of Engineering (B.Eng.)
Description
Modern medicine is unimaginable without technical devices such as ECGs machines, ventilators or pacemakers. Hospitals and doctors' surgeries depend on high-performance medical technology to make diagnoses and carry out treatments. Medical technicians work on the (further) development of such devices with innovative methods and technologies. This expertise opens up very good career prospects in a market with a future.
The bachelor's degree programme in medical technology offers a sound basic study programme followed by a choice of specialisation in "electrical medical technology" or "mechanical medical technology". Electrical medical technology deals with the electrical signals in the human body on the one hand and the techniques for measuring these and all bodily functions of a patient with electrical and physical methods on the other. In the specialisation "Mechanical Medical Technology", the focus is on the development and construction of medical (auxiliary) devices and the testing of medical devices. The course of study in medical technology depends on whether you decide to study medical technology full-time (six semesters) or dual study (seven semesters).
The course content of the Medical Technology degree programme at BTU includes a balanced combination of medical knowledge, mathematical and scientific engineering knowledge and medical technology expertise. Economic, societal and social aspects of medical technology are also taught in the degree programme.
Medical technology is a dynamic field in which technical developments advance rapidly. For this reason, our students are enabled to independently acquire new knowledge, subject areas and interdisciplinary links. Interdisciplinary projects and a high proportion of practical work in the degree programme form a solid basis for this.
At the BTU, students in the medical technology programme benefit from excellent support: a mentor model offers support with questions about course content and beyond, tutors promote study progress in small exercise groups and the professors are easily accessible for you.
The special thing about the dual medical technology degree programme at BTU is that you have a direct, intensive connection to practice right from the start. During the course of your studies, you will complete internships and projects lasting several weeks. In addition, you usually benefit from very good chances of being taken on by your practical company.
Senftenberg as a place to study offers not only affordable places in halls of residence or shared flats, but also everything you need to live and relax during your studies.
Professional Fields of Activity
Employment in small, medium and large medical technology companies and engineering offices, hospitals, private practices, public authorities and other facilities/medical institutions as well as in technically related facilities, universities and research institutes.
Activities in the field of product development, testing, maintenance and production as well as maintenance and commissioning of medical devices
Further postgraduate opportunities
Applications and Admissions
Admissions Requirements
Higher education entrance qualification
General higher education entrance qualification (Abitur)
Subject-related higher education entrance qualification
Advanced technical college entrance qualification (Fachabitur)
Higher education degree qualifying for entry into a profession
Master Craftmanship
Early school leaving certificate and suitable vocational training with at least two years' work experience

All study programmes