Company health promotion
Measures to improve health and well-being at work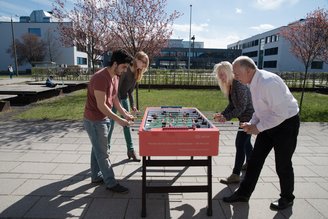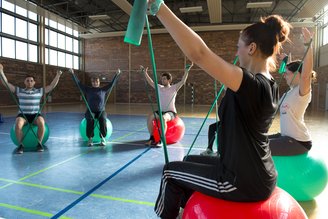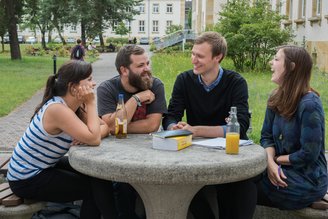 At our university, all employees have the opportunity not only to acquire specialist skills, but also to take advantage of workshops on health promotion. stress management at work, time management and self-management, healthy eating or conversation and communication are just a few examples of the many different topics.
The registration is made using the reply form to the Centre for Continuing Education in Science.
09/27/2021: When the going gets tough ... top strategies to prevent violence!
"The best fight is the one that didn't take place!" (Unknown)
It is not uncommon for us to know people who are shown more respect than others. What distinguishes these people? How and through what is it possible to achieve the desired respect? Positioning yourself and setting limits are the first prerequisites. In order to be credible and to achieve the appropriate effect, the subconscious of the other person must be addressed. Conscious action with body language and voice / language are essential.
FOCAL POINTS
- Recognizing and showing your own limits
- The unconscious effect of voice / language and body language
- Practical knowledge from the transaction analysis
- Alternative courses of action in the event of verbal aggression (insult, threat)
- Behavior when the distance is shortened (optional for face-to-face training)
- Practical experience of simple self-defense (optional for face-to-face training)
- Self-defense / emergency aid
GOAL
In this training you will learn how you can basically behave so that violence against you becomes unlikely. In the case of face-to-face training, you learn to be able to assert yourself even in the event of physical attacks.
MEETING
27.09.2021, 9 a.m.-3.30 p.m.
REGISTRATION
Registration is via the Center for Scientific Further Education at weiterbildung(at)b-tu.de.
11/17/2021: Setting limits - why I can't say "no"
We know from everyday life how difficult it can sometimes be to correctly assess one's own limits. Often we exceed the limits of what is feasible because we have difficulties rejecting orders and tasks or saying "no". Both research on stress prevention and resilience reveal findings that are important for our health. Regulating yourself and taking responsibility for your own actions and thus consciously shaping your own future are relevant skills for a fulfilled life. After a short thematic introduction, the seminar offers you the opportunity to deal with your own drivers and limits through exercises and to learn to specifically say "no" with the help of appreciative communication and self-empathy.
MEETING
11/17/2021, 9.00 a.m.-3.30 p.m.
REGISTRATION
Registration is via the Center for Scientific Further Education at weiterbildung(at)b-tu.de.
01.12.2021: Living will and / or health care proxy
Regardless of age, everyone can come into a situation in which others have to act and decide for them. In such cases, the health care proxy is a useful tool to determine who can make such decisions when you can no longer do it yourself. What should be considered and how does a power of attorney differ from an advance directive? And what is a care directive actually? The care center Cottbus and the care authority would like to encourage and support you to take preventive measures.
MEETING
December 1st, 2021, 9 a.m.-12 p.m.
REGISTRATION
Registration is via the Center for Scientific Further Education at weiterbildung(at)b-tu.de.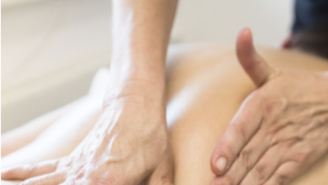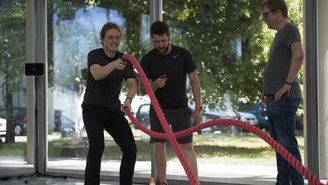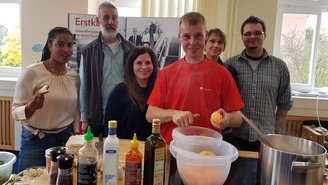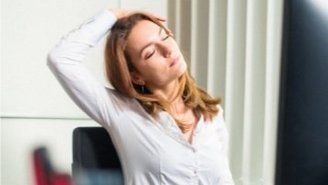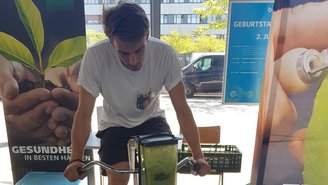 Massage offer on the campus
Once a week, relatives and employees of the BTU Cottbus-Senftenberg can take advantage of the offer of a massage during their break. with the help of neck or back massages, tensions can be released. a soothing, short relaxation can be enjoyed in everyday working life. this is a self-payment offer.
The massage offer is suspended on summer semester 2021. Alternatively, you can make an appointment on site at the practice at the usual conditions.
When? Tuesdays 9:30 - 12 and 15:30 - 18 (weekly)
mondays 12 - 15 o'clock (odd calendar week)
Where? Verfügungsgebäude 1 C, room 0.19
Who? WELLNESS CONCEPT, Katja Arnold
How? T +49 (0) 355 75 23 92 07, katja.arnold(at)web.de
When? Wednesdays from 12 - 15 o'clock (1x per month)
Where? Building 1, room 130
Who? Ergo- and physiotherapy practice Woßlick
How? T +49 (0) 3573 36 55 12 (latest by 12 noon on Monday)
Gymnastics at the workplace
Fast, relaxing, effective: Under instruction, you will learn short, simple exercises that will help you stay physically and mentally fit in the workplace. The offer is aimed at all employees of the BTU. Once a week, for 15 minutes, short exercise and relaxation exercises take place directly at your workplace.
If you would like to try out this offer in your team or lead a small group yourself, you will find more information in our broschure.
Get in touch with us: gesundheitsmanagement(at)b-tu.de
In online mode we bring the gymnastics home to your home office, the times can be found at www.b-tu.de/sport.
You can find more workouts, movement exercises, as well as tips and tricks on the topic of 'working in balance at home' on our home page Support in the home office.
You can find more workouts, movement exercises, as well as tips and tricks on the subject of 'working at home in balance' on our homepage support in homeoffice.
Influenza vaccination 2020
Summer time is coming to an end. In times of Corona, the decision for or against a flu vaccination plays a bigger role. The flu shot is the best way to protect yourself and others against the flu. The Robert Koch Institute (RKI) and the Standing Vaccination Commission (STIKO) therefore recommend flu vaccination, especially for those groups of people who, if they are ill, have a high risk of severe disease.
This year there will be no flu vaccination on the central campus and campus Senftenberg due to the change in attendance.
If you are interested, please contact the local medical practice. We very much hope that we can offer you the flu vaccination again next year.
Once a year, the health day takes place at the BTU Cottbus- Senftenberg. students and employees are cordially invited to try out various workshops, courses and offers. the changing topics of the health day are specifically tailored to the wishes and suggestions of all participants. in february 2020 the participants could try out at different stands according to the motto "no stress with stress" and have their physical as well as mental health tested. impressions of the health day 2020 can be found in our picture gallery.
BTU Cottbus-Senftenberg regularly takes part as a team in the DAK company run. you have the opportunity to experience an unforgettable running event together with colleagues*. the approx. 5 km long running course leads through the beautiful Spreeauenpark in the direction of the zoo, along the river Spree and back to the Spreeauenpark.
You have the opportunity to train your endurance even before the event. BTU's university sports department offers a running group. Here is the link to beginners' running.
Contact person: Catharina Buchenau
University sport keeps you fit and healthy, allows you to balance your studies and work, creates contact between university members and brings German and foreign students closer together - no matter which sport you choose.
The central Institution for University Sports offers a wide range of different sport courses for all members of the university. If your own favourite sport does not yet exist, please contact ZEH.
Blood donation appointments of the DRK
Der DRK-Blutspendedienst Nord-Ost bietet auf den Campus regelmäßige Blutspendetermine an:
The DRK Blood Donation Service North-East offers regular blood donation appointments on campus:
| | | | |
| --- | --- | --- | --- |
| Campus | Dates for 2020 | Time | Place |
| Senftenberg | 29.09.20, 08.12.20 | 2 - 6 p.m | Building 2, rooms 2.208 - 2.210 |
| Main Campus | 03.11.20 | 2 - 6 p.m | Sports hall of the BTU |
| Sachsendorf | 11.08.20, 27.10.20 | 10 - 2 pm | Mensa, first floor |
Every healthy person can donate blood from the age of 18. an interval of at least 8 weeks must be observed between two blood donations. women may donate four times a year, men up to six times. please bring your identity card and, if available, your blood donation card with you to each blood donation. Appointment reservations can be made online under Appointment Allocation. If you have any questions, please contact the DRK Blutspendedienst Nord-Ost on 0355 / 499 50 or www.blutspende.de