Philatelic Contribution to UNESCO Campaign on 'Save the Nubian Monuments' by MOHAMMAD ABU AL HASAN, Bangladesh, HCSM Program, BTU
2. Beginning of the campaign 1959-1962
In 1959, both the government of Egypt and Sudan appealed to UNESCO in protecting nearly 3000 years old monuments of the Nubian region that would be flooded and submerged completely by the construction of the intended Aswan High Dam. Along with the appeal to UNESCO, Egyptian postal authority single handedly started the philatelic campaign on Save the Nubian Monuments by issuing a stamp on that year.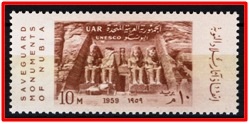 2.2. Launching of the Campaign
For UNESCO, it was the 1st time to receive such a request by any country. On March 8, 1960 at the Great Hall of UNESCO House in Paris, Vittorino Veronese, the Director General of UNESCO launched the world appeal inaugurating the international campaign for the preservation of the monuments of Nubia. After the launching of the campaign from UNESCO, Egypt continued their philatelic campaign on 1960 alone.
Later in 1960, UNESCO authorized the continuation of the Save the Nubian Monuments campaign. This year, the construction of the Aswan High Dam was started and Egyptian Authority Dismantled and transferred the temples of Debod and Taffa and the kiosk of Qertassi.
2.3. Beginning of International Philatelic Campaign, 1961
In the early stage, in between 1961-1963, 12 countries issued stamps and FDCs on Save the Nubian Monuments Campaign.
2.3.1. In 1961, two countries along with Egypt.
Even being one of the hosting grounds of the UNESCO campaign on Save the Nubian Monuments, Sudan joined in the philatelic campaign in 1961.
2.4. International Philatelic Campaign continued, 1962
In 1962, Dismantling, transfer and reconstruction of the temple of Kalabsha by the Federal Republic of Germany continued. In February, Experts meeting on the safeguarding of the monuments of Sudanese Nubia was held. An Executive Committee of the International Campaign was created. From this year, Dismantling, cutting and transfer of the temple of Beit al-Wali and Wadi es-Sebua and of the Tomb of Pennut at Aniba with a financial contribution from the United States of America was started.
On this year along with Egypt (UAR), three other countries joined in the philatelic campaign for saving the Nubian Monuments.
i. United Arab Republic (Egypt )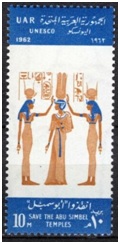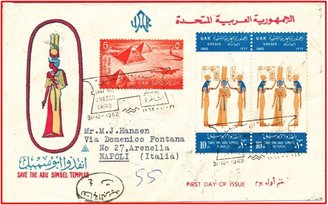 iv. United Arab Republic (Yemen)