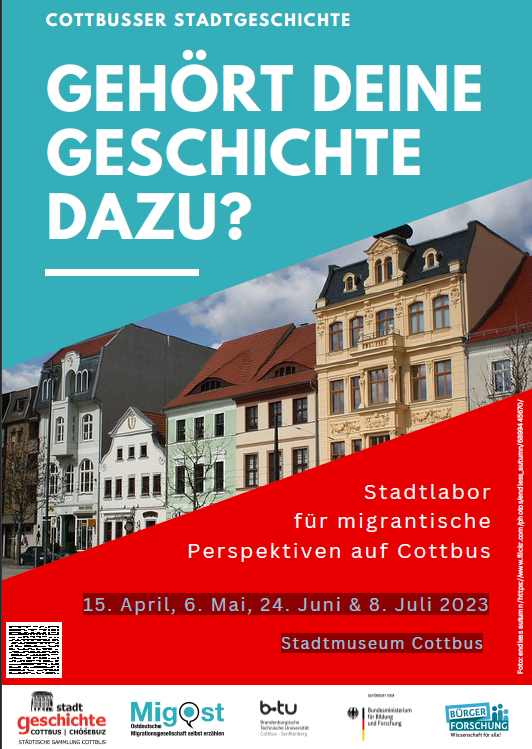 Auch Ostdeutschland hat eine Migrationsgeschichte: DDR-Vertragsarbeiter*innen u.a. aus Vietnam, Mosambik, Polen beluden Schiffe in Rostock, förderten Kohle in der Lausitz, bauten Waggons in Halle. Menschen kamen für eine Ausbildung oder einen der raren Studienplätze; andere als politische Emigrant*innen.
Ab den 1990er Jahren folgten Spätaussiedler*innen, Kontingentflüchtlinge und Kriegsflüchtlinge aus Jugoslawien, später aus Syrien und Afghanistan. Andere, als Kinder binationaler Paare in Ostdeutschland geboren, machten Erfahrungen des Andersseins, obwohl sie selbst keine Migration erlebten.
Dennoch wird über die Rolle von Migrant*innen in Ostdeutschland kaum gesprochen. Selbst in der Forschung dominiert die westdeutsche Einwanderungsgeschichte den Diskurs.
Mit dem Projekt MigOst wollen wir Gelegenheiten für die gemeinsame Auseinandersetzung mit der (eigenen) Migrationsgeschichte schaffen. Wir wollen die Teilhabe von Migrant*innen in Ostdeutschland sichtbarer machen und die eindimensionale mehrheitsgesellschaftliche Perspektive auf Migration erweitern, um so den Weg für vielfältigere (Stadt-) Geschichten zu ebnen.
MigOst ist ein kollaboratives Projekt mit der TU Dresden und dem Dachverband der Migrantenorganisationen in Ostdeutschland (DaMOst)
Weitere Informationen.
MIKOWA - Forschungsplattform Migration, Konflikt und sozialer Wandel
Since its foundation in 2017, the research platform MIKOWA has developed into a place for scientific discourse and theory-practice discourse. The focus is on application-oriented and basic theoretical analyses at the micro, meso and macro levels on:
Conflicts around migration, diversity and participation
Conflicts over migration and social inequality
Conflicts caused by the mobilization of (extreme) right-wing groups
Mobility and migration in and from authoritarian states
Regional structural change and conviviality
The research platform is a collaborative project with Prof. Birgit Behrensen and Prof. Heike Radvan.
More information here.