Doctoral Colloquium and Workshop Seminar
In this weekly colloquium the doctoral students present the research questions, material and theses of their doctoral work, ranging from the history of planning and social-historical urban research to the ancient history of construction and technology.
During the workshop seminars, the doctoral students give an insight into their research methods through their sources and materials. The research approaches of the different disciplines and methodical challenges regarding the individual research projects are then discussed with the audience. The seminar focusses on evaluating the core research questions based on the materials and on translating the findings back into the overarching context of the dissertation.
The seminar is organised as a weekly roundtable talk between the members of the Research Training Group that follows a short introduction into the available research materials and the specifics of the sources.
The colloquium takes place on Wednesdays at 9:30 am, in Lehrgebäude 2D, Room 109 or online. If you are interested in attending, please email Albrecht Wiesener (albrecht.wiesener(at)b-tu.de).
Research Colloquium in the Summer Term 2023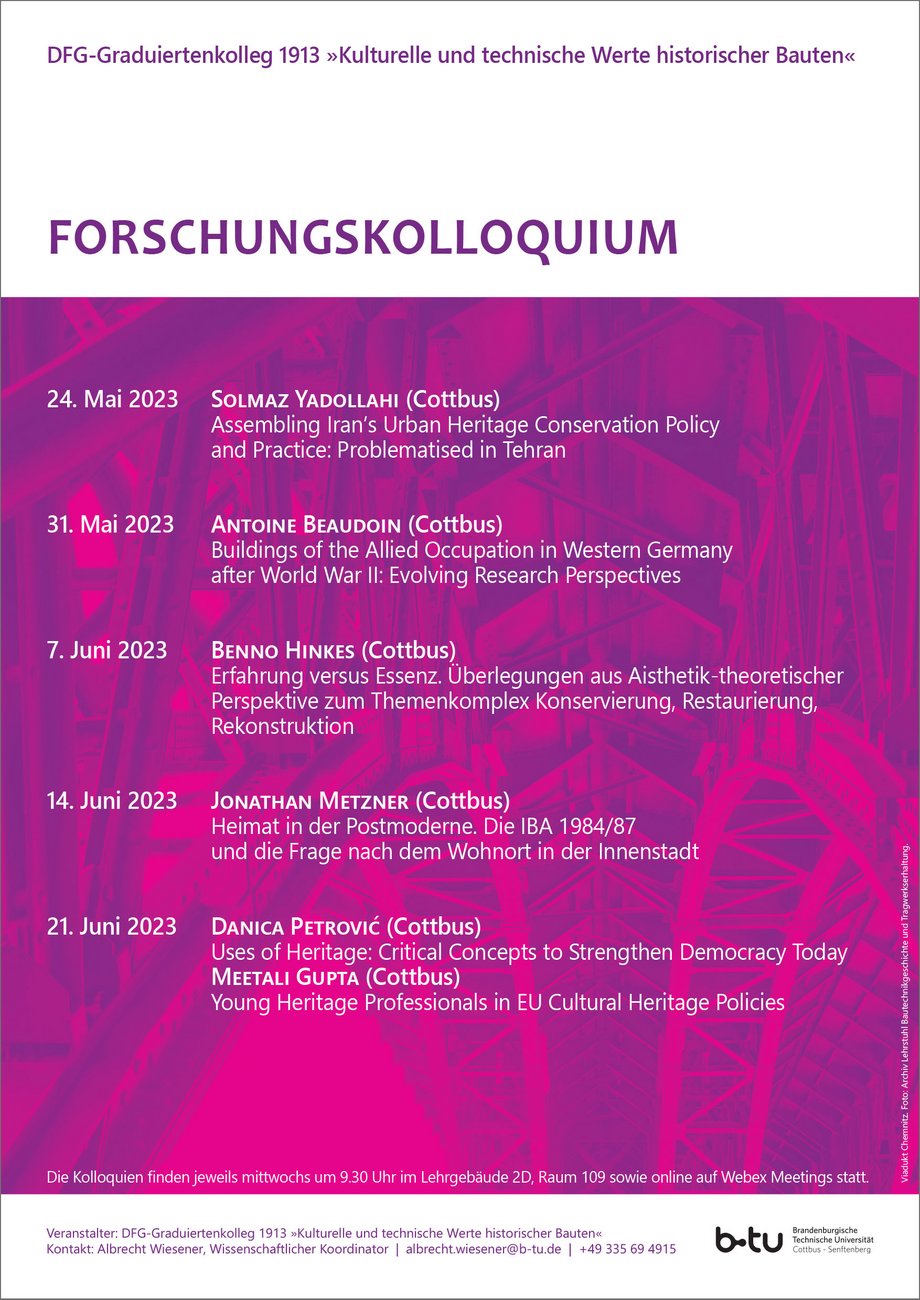 24 May 2023
Solmaz Yadollahi (Cottbus)
Assembling Iran's Urban Heritage Conservation Policy and Practice: Problematised in Tehran
31 May 2023
Antoine Beaudoin (Cottbus)
Buildings of the Allied Occupation in Western Germany after World War II: Evolving Research Perspectives
7 June 2023
Benno Hinkes (Cottbus)
Erfahrung versus Essenz. Überlegungen aus Aisthetik-theoretischer Perspektive zum Themenkomplex Konservierung, Restaurierung, Rekonstruktion
14 June 2023
Jonathan Metzner (Cottbus)
Heimat in der Postmoderne. Die IBA 1984/87 und die Frage nach dem Wohnort in der Innenstadt
21 June 2023
Danica Petrović (Cottbus)
Uses of Heritage: Critical Concepts to Strengthen Democracy Today
Meetali Gupta (Cottbus)
Young Heritage Professionals in EU Cultural Heritage Policies