How can we utilize existing potentials in order to make the BTU Cottbus – Senfteberg an even more international institution for teaching and research? How can we achieve that everybody – professors, employees and students feel appreciated and are enabled to contribute with their strengths to the development of our university?
We believe the differences between all members of the university are one of its greatest potentials. Therefore BTU Cottbus – Senftenberg sees the encouragement of diversity as its duty. This is expressed in the university's self-understanding and "Charta of Diversity".
We are committed to create an appreciative corporate and study environment free from prejudice, which utilizes the skills and talents of each individual evolving from their competences, backgrounds and life situations. The aim is an inclusive, barrier-free university. This shall be realized through respect and the establishing of equal opportunities by guidance and support on each administrative level. Diversity is actively implemented and lived by the university's executives and teachers. People with disabilities are supported for example by the "Zentrum für barrierefreies Studium".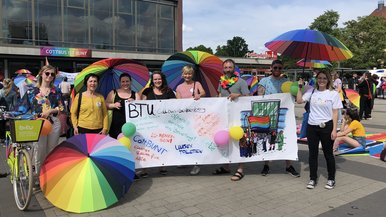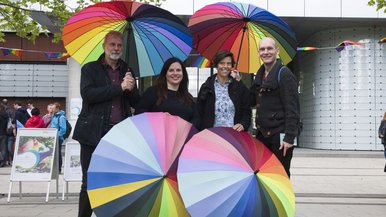 The Germany-wide Diversity Day takes place every spring, in which the BTU Cottbus-Senftenberg has been involved for years and thus sends a signal for tolerance and diversity within the university. On the Diversity Day there are always various activities related to the individual dimensions of diversity, information and exchange can be found.
The traditional opening of the CSD campaign weeks for Cottbus and Niederlausitz took place again this year on the central campus of the BTU Cottbus-Senftenberg. On August 23, 2021, the rainbow flag was replaced by the BTU President Prof. Dr. Gesine Grande, the Vice President for Research and Transfer Prof. Dr. Michael Hübner and the board of the CSD Cottbus e.V. With this we set an example for mutual respect, acceptance and a diverse society!
Of course, the rainbow flags will also fly on the BTU campuses in Sachsendorf and Senftenberg during the CSD campaign weeks. A highlight of the CSD program under the motto "Great hurdle, human dignity" is a demo on September 4th, 2012 with a stop at the BTU.
Mission statement of the BTU
By treating each other respectfully and establishing equal opportunities through comprehensive advice and support at all levels, the BTU Cottbus-Senftenberg is committed to creating an appreciative work and study environment that is free from prejudice and uses the potential of each individual with his or her diverse skills, backgrounds and life situations as a benefit for an inclusive, barrier-free university. Diversity in the workplace and in the student area is actively implemented and exemplified by managers and teachers. People with additional needs due to disabilities receive support (e.g. from the Center for Accessible Studies).
Contakt
Simone Ruhwald
Referentin für Diversität und Gesundheit
Postadresse:
Brandenburgische Technische Universität Cottbus - Senftenberg
Stabsstelle Chancengerechtigkeit und Gesundheitsförderung
Karl-Marx-Str. 16
03046 Cottbus
Predicate and certificate