DAAD Award for outstanding achievement by a foreign student at a German university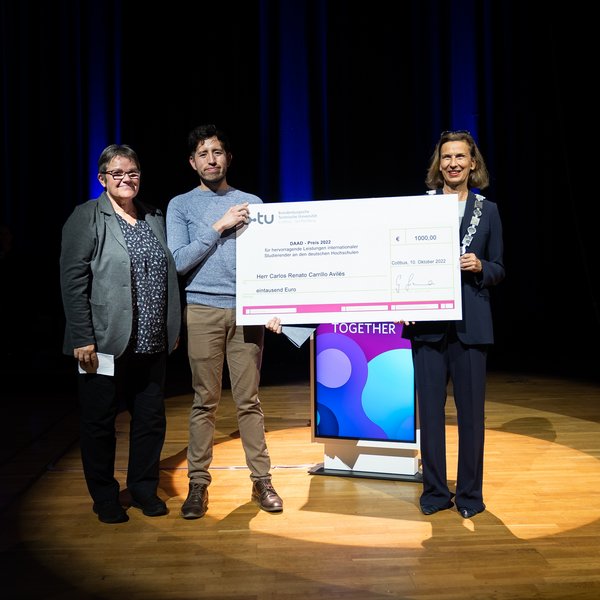 The international students of our university enrich the university community in cultural, as well as academic regard.
In order to acknowledge this, each year the DAAD Award is awarded to international students who complete their studies in Germany and who distinguish themselves with specially high academic achievement and social or intercultural engagement.
Since 1995 the Brandenburg Technical University of Cottbus-Senftenberg has imparted the DAAD financial award at the annual opening ceremony of the academic year. Mr. Carlos Renato Carrillo Avilés was awarded with the DAAD Award 2022.
Award recipients from previous years
2022 - Carlos Renato Carrillo Avilés (Ecuador)
2021 - Zineb Alaoui Selsouli (Marocco)
2020 – Nabil Abo Nasser (Syria)
2019 – Daniel Edward Huck (USA)
2018 – Collins Izuchukwu Igboji (Nigeria)
2017 – Aleksandra Aftowicz (Poland)
2016 – Nicole Franceschini (Italy)
2015 – Ezeamama Anayo Azubuike (Nigeria)
2014 – Li Chen (China)
2013 – Hakam Kondakji (Syria)
2012 – Dr. Andreza da Rocha (Brasil)
2011 – Ahmed Elnaggar (Egypt)
2010 – Armin Zayani (Tunesia)
2009 – Karolina Lisiecka (Poland)
2008 – Ernestine Tangang (Kameroon)
2007 – Kate Eleanor Pierce-Mc Manamon (USA)
2006 – Sevil Yesim Dizdaroglu (Turkey)
2005 – Shuang Yang (China)
2004 – Beata Tatarczyk (Poland)
2003 – Nataliya Turchyna (Ukraine)
2002 – Dagmara Kaczmarczyk (Poland)
2001 – Fleur Hutchings (Australia)
2000 – Marcin Mroz (Poland)
1999 – Mourad Zouad (Marocco)
1998 – Marc Martinez (Spain)
1997 – Jinsheng Feng (China)
1996 – Petar Bozic (Croatia)
1995 – Aladin Naser (Syria)
Award recipients of former Lausitz University of Applied Sciences
2013 – Ghazaleh Sadoughian (Iran)
2012 – Stephen Bwete (Uganda)
2011 – Giordano Bruno de Moraes do Nascimento (Brasil)
2010 – Andriy Lesunenko (Ukraine)
2009 – Mhd. Mohanad Huda Al Barazi (Syria)
2008 – Sophie Andrey (Switzerland)
2007 – Ardahan Akdemir (Turkey)
2006 – Jianbo Bai (China)
2005 – Vikrant Maruti Agawane (India)