3 DAAD STIBET scholarships awarded to particularly committed doctoral candidates in the PhD programmes "Environmental and Resource Management" and "Heritage Studies"
For the fourth time now, the engagement of doctoral researchers in the Ph.D. programmes who have shown outstanding commitment in establishing and deepening partnerships and cooperation with foreign universities, research institutions or other institutions in their respective research fields was rewarded.
Mr. Fredrick Gyasi Damptey, Chair of Ecology, is writing his dissertation on the effects of forest restoration on ecosystem attributes in a post-mining area in Ghana.
He has been awarded the scholarship for his continuous and extensive cooperation with partners at the Presbyterian University College of Ghana, the University of Education, the University of Environment and Sustainable Development as well as the University of Cape Coast, Ghana. In cooperation with local research institutions and NGOs, Mr. Damptey is also active in the fields of preservation of conservation areas, the development of Citizen-Science-Programmes for the evaluation of biodiversity as well as the implementation of nature conservation campaigns. He is currently leading a three-year project with colleagues at the University College of Agriculture and Environmental Studies to conduct a joint environmental and economic assessment of the Brunso Eco Park in Ghana.
Ms. Huda Faris Hasan Amro, Chair of Intercultural Studies, is writing her dissertation on the innovative topic "Ein El-Hilweh Palestinian Refugee Camp: Architecture, Urban Morphology, Collective Memory and Symbolic identity
Ms. Amro is an excellent choice to receive the scholarship as she has been actively involved in establishing academic, project-based cooperation with the "National Focal Point for Cultural World Heritage" and the "Department of Antiquities" in Jordan since 2021. In addition, Ms. Amro is involved in establishing academic cooperation with the University of Jordan in Amman, resulting in online guest lectures on her PhD research project and further collaborations, such as research stays, a planned workshop in 2023, mobilities and other joint activities.
Mr. Ernest Ako Enow, Chair of Civil Right, is writing his dissertation about the analysis of possible synergy between REDD+ and FLEGT towards improving forest governance structures in Cameroon.
Mr. Enow has received the DAAD STIBET scholarship for his commitment in the field of teaching in Bachelor´s and Master´s programmes at the University of Buea, Cameroon, for several years as part of the ERASMUS+ staff mobility programme. He had a leading role in applications for joint projects between the University of Buea and the BTU Cottbus-Senftenberg, such as the ERASMUS+ mobility and the establishment of an "Environmental Research Centre", funded by the German Academic Exchange Service (DAAD).
Congratulations!
Doktorand Michael Acquah aus Ghana hat Environmental and Resource Management (ERM) an der BTU studiert und nutzt sein Wissen, um in seiner Heimat die ländliche Entwicklung voranzutreiben.
Professor Hilary Braysmith, University of Southern Indiana, holds DAAD guest professorship at BTU in summer semester 2020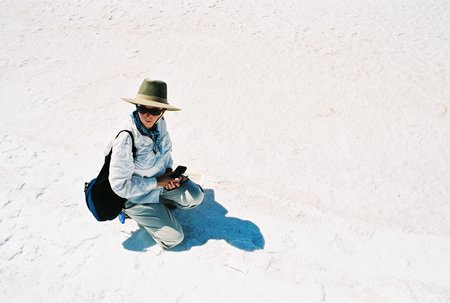 After visiting BTU and Cottbus for several projects and guest lectures since 2018, Professor Braysmith from University of Southern Indiana´s College of Liberal Arts is spending the summer semester at BTU to teach a study project on "Heritage-based Social Practise" for Master students in World Heritage Studies and Heritage Conservation and Site Management as well as a seminar for BTU PhD students on "Ethical Research, Practice, and Social Practice".
Professor Braysmith is an Arts Historian by education a well as a curator, developer and organiser for art- and heritage-based projects within communities and the public space. In her teaching, projects and research, she focuses on cultural heritage, identity constructions and (post-)colonialism.
The central aim of her teaching is to understand and use art and cultural heritage as a vehicle for solving social and environmental problems. Dr. Braysmith sees herself and her students as "scholar citizens" using their academic competence and professional knowledge to solve local, national and global challenges ("social practice"). By means of art and cultural heritage, she critically examines prevailing theories and practices in urban planning as well as economic and social development within the urban space and confronts these with new theories and approaches.
As a guest professor, Dr. Braysmith is an excellent fit to BTU´s interdisciplinary and practice-oriented Master's programmes and international PhD programmes, which are particularly distinguished by the diversity and heterogeneity of the students, their disciplines, and their study and research projects. In the Master World Heritage Studies alone, students from five continents, from 48 countries and each with different backgrounds - from architecture and cultural studies, anthropology and social sciences to theatre studies and the fine arts - study at BTU.
Professor Braysmith's stay is a cooperation of the Chairs of Intercultural Studies (Prof. Anna Amelina, Faculty 5), Heritage Management (Dr. Britta Rudolff, Faculty 6) with the Research Department (Dr. Birte Seffert), the Bureau for International Studies (Ms. Helena Schmiemann), the International Relations Office, the Graduate Research School and the Multimedia Centre.
The guest professorship is sponsored by the German Academic Exchange Service (DAAD) and by BTUs´Faculty of Architecture, Civil Engineering and Urban Planning.
Two ERM students awarded the BTU scholarship for PhD students who are active in establishing international cooperation within their Chair/Department (DAAD STIBET funding)
Mr Azaufa Takunjuh Ngundem Betaah, Department of Public Law (especially Environmental and Planning Law), is writing his dissertation on "Assessing the Application of the World Bank Standards towards the Protection of Human Rights to a Healthy Environment: Experiences from the Chad/Cameroon Pipeline Project".
He has been awarded the scholarship because of his commitment to promote cooperation between the University of Buea and BTU. He supports student exchange between the universities and will start lecturing at the University of Buea in October 2020 during the field studies for his PhD research. He is also part of the team to apply for the BMBF program "Forschung zu Resilienzstärkung und Strukturaufbau in Afrikanischen Städten und Ballungsgebieten (AfResi)" and is the contact person for the Faculty of Law and Policy in Buea at BTU. In addition, Mr. Azaufa Takunjuh is active in publishing and has been invited to renowned international conferences.
---
Mr. Ernest Ako Enow, Department of Public Law (especially Environmental and Planning Law), is writing his dissertation on improving the Forest Governance Framework in Cameroon.
He has been awarded the scholarship due to his support of his home University of Buea in Cameroon in conjunction with the partner University BTU and the BMBF. He is actively involved in re-establishing the student exchange to the University of Buea, supports the supervision of PhD candidates and their dissertations in Cameroon and offered three seminars on "Sustainability" at the University of Buea within the framework of an Erasmus+ program (12.2018-01.2019). Furthermore, Mr. Enow is very active in various Chair activities, DAAD alumni seminars and workshops.
---
PhD ERM graduate Chika Ubaldus Ogbonna receives BTU award for his dissertation on »Adaptation to Climate Change in Developing Countries: Institutional Challenges and Opportunities for Nigeria' s Niger Delta Region«. The dissertation was supervised by the Chair of Public Law with special reference to Environmental and Planning Law . Chika received the honour "magna cum laude".
We congratulate Chika on this success!
---
ERM PhD student and DAAD scholarship holder Isaac Mbir Bryant works on a biogas facility in Ghana with the BTU Chair Biotechnology of Water Treatment. BTU News reported on his research project (in German only).
---

Twenty years ago, the study programme Environmental and Resource Management (ERM) at the former BTU Cottbus was established. The Bachelor's degree began, followed a year later by the Master's and PhD programs in 2002.
---
The prize was awarded for her poster on "Economic Valuation and Analysis of Climate Change Adaptation Measures in Agriculture"
---
Climate-KIC Journey is Europe's largest summer school for climate innovation and entrepreneurship offering a unique combination of climate knowledge and hands-on business experience.