5G Forest Guard Project duration: 01.01.2022 - 31.12.2024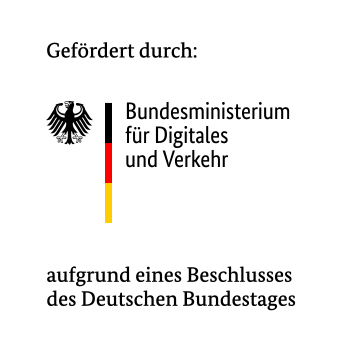 In this project, a 5G infrastructure is being created that will provide significant support for fighting and preventing forest fires in the future. With appropriate sensor technology and through drones, the relevant data will be collected in a central crisis management server.
The consortium management is the responsibility of the district of Görlitz. In addition to Fraunhofer IOSB-AST, Zittau/Görlitz University of Applied Sciences and IHP GmbH, four BTU departments are involved in the project:
Crisis management of forest fires on 3 levels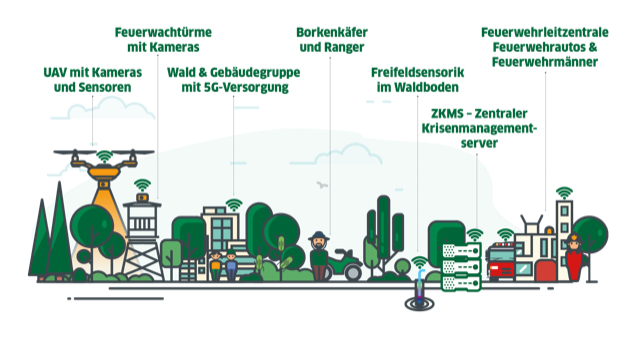 Level 1 - Crisis Preparedness: The existing data and an inventory of the forest are integrated into a central geodata server. In terms of early detection of a possible bark beetle infestation, the red edge method and gas sensors will be used. The project area will be systematically overflown by drones, which will transmit their data to the server via 5G. The result of this level will be a data-driven assessment of fire risk and hazard potential.
Level 2 - Crisis Warning: regular monitoring is part of the warning system to be developed in the project. In conjunction with the historical weather data, forecast and possible additional hazards, a classification into risk levels is possible. This is closely monitored by additional sensor levels. At this point, thanks to intelligent networking and data infrastructure, measurement data is automatically evaluated using AI algorithms. The goal is to automatically provide a valid decision-making basis for triggering a crisis or alarm.
Level 3 - Crisis Management: This level is where the management of the crisis begins. Thanks to the new data situation, the fire department groups can be maneuvered to the source of the fire in a targeted manner. All information converges on a server. An optimized approach plan is created from the data and basic information collected in the early warning phase. Data from the other early warning stations is also processed and made available to the fire department.
Main areas of work at the BTU Cottbus
A key challenge is the monitoring of large forest areas using small drones (UAV). Due to the limited flight time, this cannot be accomplished by one UAV alone. Appropriate coordination creates a swarm that can solve complex monitoring tasks as a team. This is based on modeling as a multi-agent system and a cooperative leader-follower scheme. Optimal trajectory planning is then integrated with this control and tested using 5G communications.
Effective sensing requires the appropriate placement of sensors from the humus layer to the tree tops. To implement this in a cost-effective manner, these sensors will connect to the nearest 5G sensor node using local wireless technologies such as Bluetooth. These local connections in the forest will be evaluated as well as a dynamic connection between ground sensors and UAVs will be tested. Prototypes for the distributed sensors will be developed and built, and linked to the 5G message sensor technology. The suitability of novel plasmonic gas sensors will also be investigated.
The data transmitted to the central crisis management server will be analyzed to detect anomalies in it, which may indicate, for example, forest fire risk and fire. For this purpose, Deep Learning approaches will be used and evaluated with respect to their robustness and precision and integrated into the crisis management system. Finally, the application demonstration of the AI-supported data evaluation is carried out.