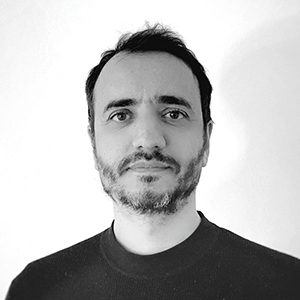 Ilija Vukorep has been a professor of digital design methods since 2006. As an architect he founded together with partners the office LOMA architecture.landscape.urbanism in the year 1999. From 2009 to 2011 he was a visiting professor at the University of Kassel. After graduating, he worked in architectural offices in Japan and Spain. In his office he won international and national competitions such as the award for digital innovation - German Landscape Architecture, the San Francisco Prize, Europan or the AR & D Award. His focus in teaching and research are computer-aided design methods and fabrication. He is a member of the Institute for New Industrial Culture and Institute for Floating Buildings.
---
Contact
Room LG2D.212
ilija.vukorep[at]b-tu.de
T +49 (0) 355 69 42 15
---
Research Areas
Digital Design, Digital Fabrication
PhD Supervision
- Joseph Clanghorn, "Algorithmic Landscapes - Computational Methods for the Mediation of Form, Information, and Performance in Landscape Architecture", an der Leibniz Universität Hannover, main supervisor: Prof. Christian Werthmann
- Mateusz Zwierzycki, "Representation Methods for AI in Architectural Design", first supervisor
- Anatolii Kotov, "AI - enhanced Architecture Design Methods", first supervisor
- Tru Trang Nguyen, "Study model of floating housing units embedded in a floating community using innovative floating structures and materials, adapting to climate change and sea level rise in Vietnam", first supervisor
---
Published Projects
"Ripple Park" In: On the move, Landscape Architecture Europe #4", p.72-79. Wageningen: Blauwdruk, 2015
"Menschen" In: Technology Review. Magazin für Innovation, p.96. Hannover: Heise Verlag, Januar 2013
"Schwimmendes Erlebniszentrum, Bergheider See." In: Neue Landschaft Lausitz / Katalog 2010. Berlin: Jovis Verlag, IBA Fürst-Pückler-Land, 2010
"Schwimmendes Erlebniszentrum, Bergheider See." In: il Progetto Sostenibile, Acqua e architettura. Risparmio, Resupero, Riqualificazione Urbana by Luca Maria Francesco Fabris, 82 - 87. Milano: EdicomEdizioni, 2009.
"Harvey Milk Memorial." In: Innovative Materials and Technologies for Landscape Architecture, Living Systems by Liat Margolis, Alexander Robinson. Boston: Birkhäuser Verlag, 2007.
"Castle Vlotho." In: Contemporary Public Space: Unvolumetric Architecture by Aldo Aymonino, Valerio Paolo Mosco, 220-223. Mailand: Skira, 2006.
"Castle Vlotho." In: BDA Architekturpreis Max 40, Junge Architekten in Hessen, 4-7. Frankfurt: BDA, 2005.
"Castle Vlotho." In: VIA Arquitectura 14. Alicante, 2005.
"Castle Vlotho." In: Baumeister B6, Titelseite und Artikel, 70-75. München, 2004.
"Castle Vlotho." In: Garten und Landschaft 3, 28-30. Stuttgart, 2004.
AR+D Award 2003, commended." In: The Architectural Review, 66-67. London, 2003.