Conferencing Systems Status: 18.10.2021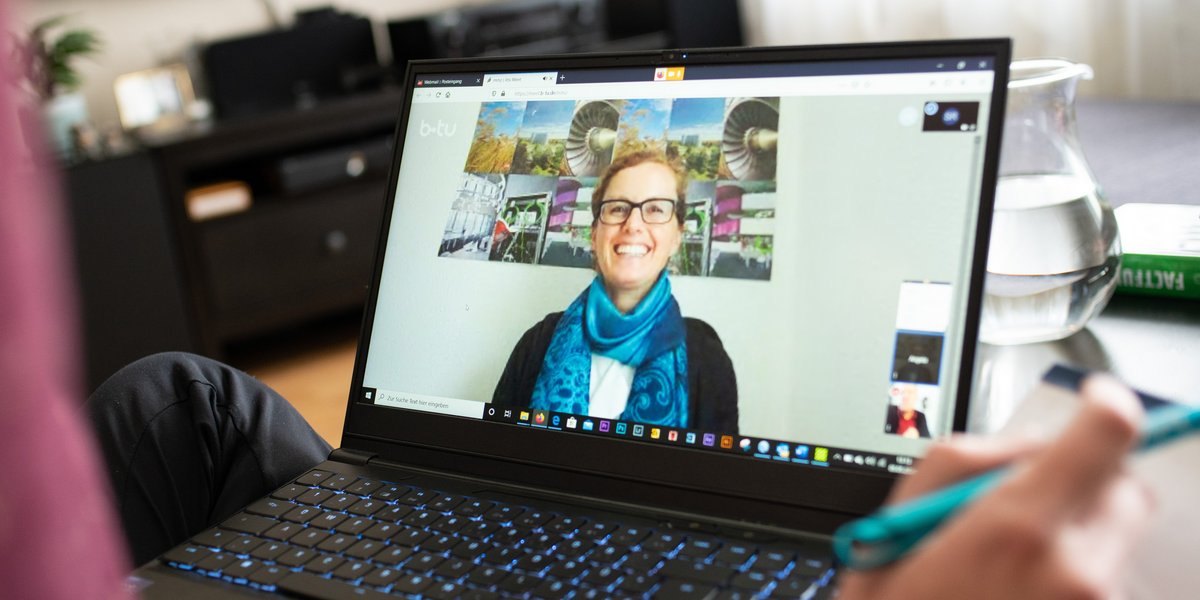 Christian Noack & Marie Troike
elearning(at)b-tu.de
T +49 (0)355 69 3939
(Tue - Thu: 9 am - 12 pm)
We are available directly for consultation by appointment.
Recommended tools for web and video conferencing Status: 18.10.2021
BigBlueButton
Jitsi Meet
Cisco WebEx
DFNConf (pexip)
Max. number of participants
approx. 60
about 20
up to 1000
max. 23 (+streaming for any number of participants)
Data protection
+++
+++
+
++
Access options
via web browser

via web browser b-tu.webex.com
via desktop app (available at the link above)
Browser plugin available
alternative accesses:

Video conferencing systems or applications

Access requirements for lecturers / moderators / event organizers

BTU account
Role "Lecturer" in Moodle (meeting room is created as an activity)

Webex account (assignment is made centrally upon request to the eLearning team)
Installation of the desktop app (Win, Mac) optional
Meeting ID number
Meeting password
Host password

Registration at DFNconf as host via IKMZ/ Multimedia Center
Setup of the meeting via DFNconf access: my.conf.dfn.de

Access requirements for students / participants

Role of participant in the respective Moodle course
for access via BBB portal: link to the meeting room
if necessary room access code

Link to the meeting room
PIN if applicable

Meeting identification number (access code)
meeting password
Enter name and e-mail address

Conference link with the conference number
PIN if necessary

Essential functionalities

Screen sharing
Recording
File upload
Share external video
Polls (always anonymous for participants, always public for organizers)
Breakout rooms (group rooms)
Chat
Raise hand
Create notes
Draw/annotate (also TN, save as screenshot)
Role management
Mute participants

Screen sharing
Chat
Raise hand
Collaborative document editing (Etherpad function)

Screen sharing
Record
Chat
Whiteboard
Polls (can be anonymous or public for participants)
File upload
Series appointments
Breakout rooms (group rooms)
Raise hand
Drawing/annotations (also participants, download as PDF)
Create minutes
Role administration
Create meeting for another person
Mute participants

Share screen
Chat
Streaming (by organizer) with text chat
Recording (by organizer)

Primary use scenarios

Online lecture
Exercise/seminar (with collaborative character)
office hours, consultation
oral online examination, disputation
Online meetings

Online lecture in small group e.g. exercise/ seminar
office hours, consultation
Online meetings
oral online examination,
Disputation with smaller numbers of participants (if necessary via a separate secure instance - please contact the MMZ if required)

Online lecture especially with larger numbers of participants
Exercise/ Seminar
Disputation with larger numbers of participants
Online meetings
Online conferences (on request)
Streaming (on request)

Online lecture in small groups e.g. exercise/ seminar
Office hours, consultation
Online reviews

Video conferences (max. 23 tln.)
Audio conferences (max. 50 tln.)

Security

Installation on BTU's own servers

Installation on BTU's own servers, password protection possible

Cloud solution, Cisco video conferencing platform with separate BTU instance,
Password protection possible

Central DFN service for universities and research institutions,
PIN for organizers and for guests (optional)

Current notes

After updating to version 2.7, you can specify in the room settings whether recordings should be possible. The default setting is "NO".
Recordings are not visible immediately after the end of a conference. Depending on the workload, it may take a few days before a recording appears in the account.

Current notes to updates and new features of the Webex video conferencing platform!

at peak times (Mon-Fri in each case) there may be restrictions:

09:00 - 11:00
13:00 - 16:00

the partly strong restrictions in availability observed at the beginning of the Corona crisis have now not been observed/ perceived for a longer period of time

Further information/ instructions
Frequently asked questions
Other tools and platforms for video conferencing
Platform
Features
Hints for use
Talk appin the BTU orgcloud www.b-tu.de/orgcloud

P2P solution for video communication between people with BTU account
recommended for groups of up to approx. 5 people (based on practical experience to date)
OrgCloud can be set up for BTU structural units upon request(webmaster(at)b-tu.de).

Works best when either

all participants uniformly use VPN access to the campus network or
are located in the campus network or
uniformly none of the participants use VPN and none are located in the campus network.

Currently, there are reports of technical difficulties in establishing the connection (long duration); once the connection is established, the video conference functions stably.

Microsoft Teamswww.office.com

Microsoft solution as part of Office 365
Video conferencing/online seminars possible up to approx. 250 participants
Prerequisite: a Microsoft account for setting up a team or a meeting are required
Invitation of participants without MS account is possible via link.
A client app is available for different platforms.
Recordings are possible.

The BTU has a Microsoft Campus license(Students Benefit / Teachers Benefit).

Unfortunately, the current BTU regulation states that the software may only be used for private use due to data protection reasons. Therefore, as it stands, we cannot recommend the system for regular official use.
Further information on platforms and tools can be found, among other places, on the websites of the University Forum for Digitization.