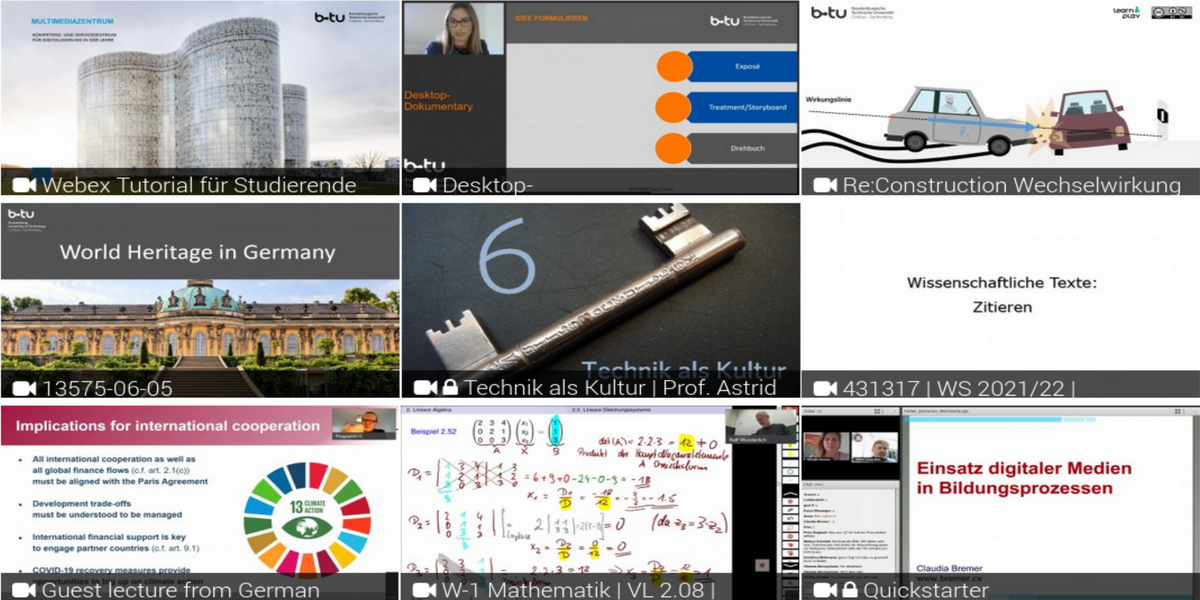 The media portal http://www.b-tu.de/media serves as a platform for storing and distributing audio and video files produced at BTU Cottbus-Senftenberg. Storage on a central platform makes it possible to integrate media in accordance with data protection regulations and to use them in a variety of ways (e.g. on our Moodle learning platform, BTU websites, in presentations, etc.).
Content can be made available directly on the media portal, where it can be tagged with licensing information, keywords, and additional information so that users can also search for specific areas of interest (e.g., mathematics) or categories (e.g., campus) and obtain information on their own.
Editor access to the media portal
If you wish to upload authorized multimedia files to the media portal and embed them in Moodle, for example, you will need editor access to the media portal beforehand.
To obtain this access:
please send an informal mail to elearning(at)b-tu.de.
Make sure that you have already logged in to the media portal once before.
Christian Noack & Marie Troike
elearning(at)b-tu.de
T +49 (0)355 69 3939
(Tue - Thu: 9 am - 12 pm)
We are available directly for consultation by appointment.
Frequently asked questions
I have uploaded a video to the media portal and want to make it visible on Moodle for all course participants. What do I need to do?
The media portal(b-tu.de/media) differentiates in access between (1) users who have explicitly registered with the media portal and (2) all other users (anonymous use). When uploading a video to the media portal, you have the option of setting both "media permissions" independently of each other.
In most cases, the most practical way is to upload a video in "hidden" publishing mode. As a Moodle user, you are not automatically logged into the media portal(b-tu.de/media). Therefore, in the "Media Permissions" select both choices (1) & (2). This way the video can be easily embedded in Moodle and also other services. After the video is finished uploading, copy the "Secret" link below the video and embed it in the desired location.
Alternatively, you have the option to add a public link ("permalink") to the media portal in Moodle (publishing mode: "public"). By means of the permalink below the video, you embed the video at the desired location. This will take students directly to the media portal(b-tu.de/media). If you choose only (1), students must log in to the media portal to view the video. If you also select option (2), you allow worldwide distribution and your video can also be found by search engines.
How can I upload a video/audio file to the BTU media portal and then make it available in the Moodle course?
To upload a video, you need access to the BTU media portal. If you have not yet been activated for upload authorization on the platform, please contact elearning(at)b-tu.de. After receiving access, you can log in to the platform and upload videos. The detailed description on how to do this including how to embed it in Moodle can be found here as a video or text.
Please log in once with your BTU account on the platform at https://www.b-tu.de/media BEFORE applying for your access.
The platform accepts the following formats with a max file size of 2000MB (but we urge you to keep the file size as small as possible):
Video: avi, wmv, mov, flv, mpeg, mpg, m4v, mp4 Audio: mp3, ogg, oga, wma, m4a.
Please note that the lecture recording created with PowerPoint must be saved in MP4 format before uploading to the media portal. You can use the free tool HandBrake(https://handbrake.fr) to shrink video files or convert them to MP4 format. If the video consists primarily of still slides, you should select the settings 'Average bitrate (kbps:) 100' under 'Video', as well as 'Encode in two passes' and 'Speed up first pass'. This way you will achieve much smaller files. After conversion, check the result and if the quality is too low, increase the bitrate value. A short tutorial for the basic conversion of a video can be found here.
We recommend that you place a license notice on the media platform for each video (e.g. "May be used freely"). You can place this directly in the video or in the video description. You can find information on licenses here.
In order to assign your videos to you in the media platform, we recommend the use of channels. These can be created by us. To do so, please send an e-mail to elearning(at)b-tu.de. You will then receive admin rights for your channel and can upload and manage your own cross-course videos there at any time. You can also choose whether the channel should be publicly visible or hidden on the platform.