create & offer eTests and eExaminations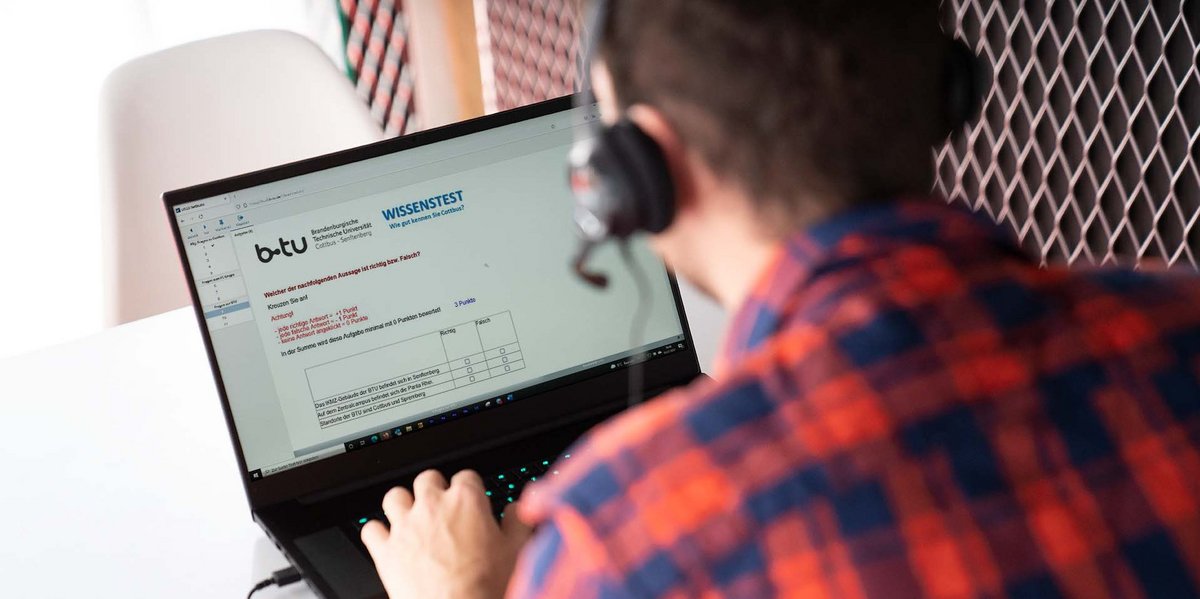 The eLearning team of the IKMZ/Multimedia Center is happy to support you in all media-didactic and technological questions regarding the implementation of electronic forms of examination.
You can reach us at elearning(at)b-tu.de or via our telephone hotline "Digital Teaching" +49 (0)355 69 3939 (Tuesday to Thursday from 9:00 to 12:00)
If you have any legal questions, please contact the Department of Studies and Teaching.
Context:
Lectures with rather high attendance or heterogeneous student body; courses with midterm or final exams.
Problem:
During the semester: with frontal teaching, there is hardly any opportunity for students to ask questions, reflect on and deepen their knowledge, or even receive individual feedback.
At the end of the semester: Paper exams involve a great deal of correction work. Final exams rarely take into account the individual competencies of the students. Individual feedback on exam results is hardly possible.
Solution:
During the semester: interactive self-tests and practice exams with differentiated feedback functions can be provided on a learning platform. The eTests can be offered for processing on a voluntary basis or to conduct mid-term exams during the semester and to check the students' knowledge level.
At the end of the semester: Electronic end-of-semester exams reduce the need for corrections and give instructors more room to focus on exam quality. Question types of electronic exams are diverse and can be designed to be interactive as well as multimedia-based. The eExams can be evaluated individually and allow dedicated feedback for student development. In an online exam format, eExams also provide even more flexibility for students.
Example:
semester-long: In business accounting courses for industrial engineering and business administration majors, semester-long eTests are available for students to complete online, regardless of location, and must be passed on at least the third attempt.
at the end of the semester: In the course on building management, electronic final exams with multimedia questions are used to test the different competence levels of the students (knowledge, applying, constructing). The exam results are evaluated and used for individual feedback to the students. The question pool of the eTest questions is constantly evaluated and further developed.
Please take to mind - switching from paper examinations to eExaminations will initially involve a corresponding didactic, technical, and organizational effort. In addition, aspects such as data protection, equal opportunities, authentication and attempts to deceive must be taken into account. Asynchronous electronic examination forms are often a good alternative. For details, see:
Video: IS EVERYONE COMING ALONG? -Study-accompanying eTests in Moodle (recorded 10/2019)
Video: BADGES AND REWARDS - Degree Tracking and Dependencies in Moodle (recorded 02/2020).
Frequently asked questions about exams in online mode Last updated: 10.12.2021
Video: ONLINE EXAMINATION - Examination Design in Online Operations (recorded 05/2020)